It's a time for celebration when Oberon returns each March. But when it leaves, many of us miss our favorite wheat ale, pining for something to take its place in our hearts and fridges.
That why this fall, we're beyond excited to introduce Oberon Eclipse, a beer for the Oberon off-season.
But what exactly is Oberon Eclipse? How is it different from the original? And, most importantly, when can you drink some?
We sat down with our Brewmaster Andy Farrell to talk about Eclipse and what makes it similar but distinct from Oberon.
The first thing to know about Oberon Eclipse is that it's not a variant on the original, but a whole new beer.
"Oberon Eclipse is an authentic and unique beer creation," said Bell's Brewmaster Andy Farrell.
The several Oberon variants we've brewed – Mango Habanero, Citrus, barrel-aged Uberon – all share a recipe similar to the original. Oberon Eclipse, however, is not so much a sequel, but a whole new beer addition to the "Oberon Cinematic Universe."
Like a traditional wit bier, Oberon Eclipse is brewed with orange peel and coriander, but its malt bill and inclusion of our house yeast makes it distinctively a Bell's beer.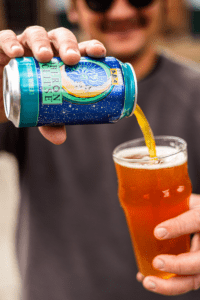 Oberon Eclipse
Warm notes of bright orange and cozy coriander to make the perfect post-summer citrus wheat ale
6.3% abv
Citrus Wheat
Medium Amber color
20 IBU
It's a little darker, and a little stronger, than the original, but it's balanced and fits perfectly within in the Oberon brand for the fall and winter seasons.
"There's a malt backbone that has a little more strength to it and gives it a different flavor profile, but, at the end of the day, it's a beer you can drink planks of," Andy said.
A lot of people at the brewery helped make Oberon Eclipse a reality.
"When launching a brand with the iconic name of Oberon, lots of people pitched in and helped," Andy said, including the entire production team in Comstock — from brewing to packaging, as well as marketing and sales.
"We think about all the work that goes into releasing Oberon each Spring," he added, "and we're making a beer to do it again for the Fall. That takes a lot of work from the whole team.
If Oberon season is all sunglasses, beaches, and BBQs – what happens in the Off-Season when there's snow, colder temperatures, and shorter days? Instead of hunkering down, Oberon Eclipse embraces the season. That includes Polar Plunges, ice golfing and doing the very Midwestern thing of using a snowbank as a cooler.
Oberon Eclipse made its world debut in the Bell's Fall Variety Pack and then released across our distribution footprint almost everywhere Oberon is sold. It will be on draft, 12, 16 and 19.2 oz cans; 12 oz bottles. Learn more.