Started In a Soup Pot, Now We're Here
We've come a long way, friends. From humble basement beginnings all the way to national recognition, it has been a journey jam-packed with innovation and expansion. Here's a sort-of succinct history of the universe, or at least the parts of it that relate to Bell's.
From Homebrew Shop to Brewery

Bell's Brewery is deeply rooted in homebrewing, our community, and sharing our craft with beer lovers old and new. Coming to Kalamazoo to attend Kalamazoo College, Larry Bell started homebrewing in the early 1980s and opened a homebrew supply shop in Downtown Kalamazoo in 1983. As more and more people were requesting samples of his beer, Larry began brewing commercially in a 15 gallon soup pot and opened Kalamazoo Brewing Co., which sold its first beer on Sept. 19, 1985.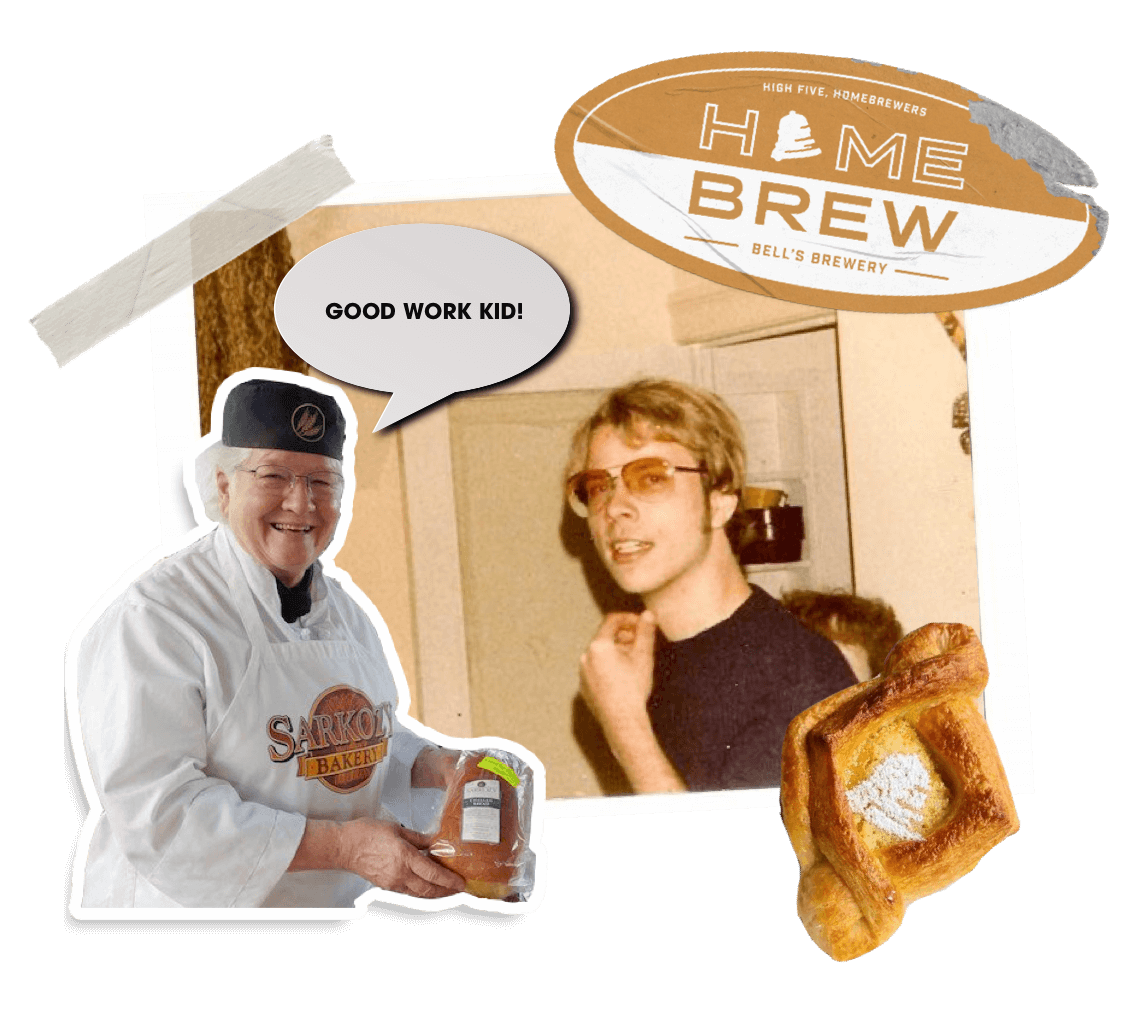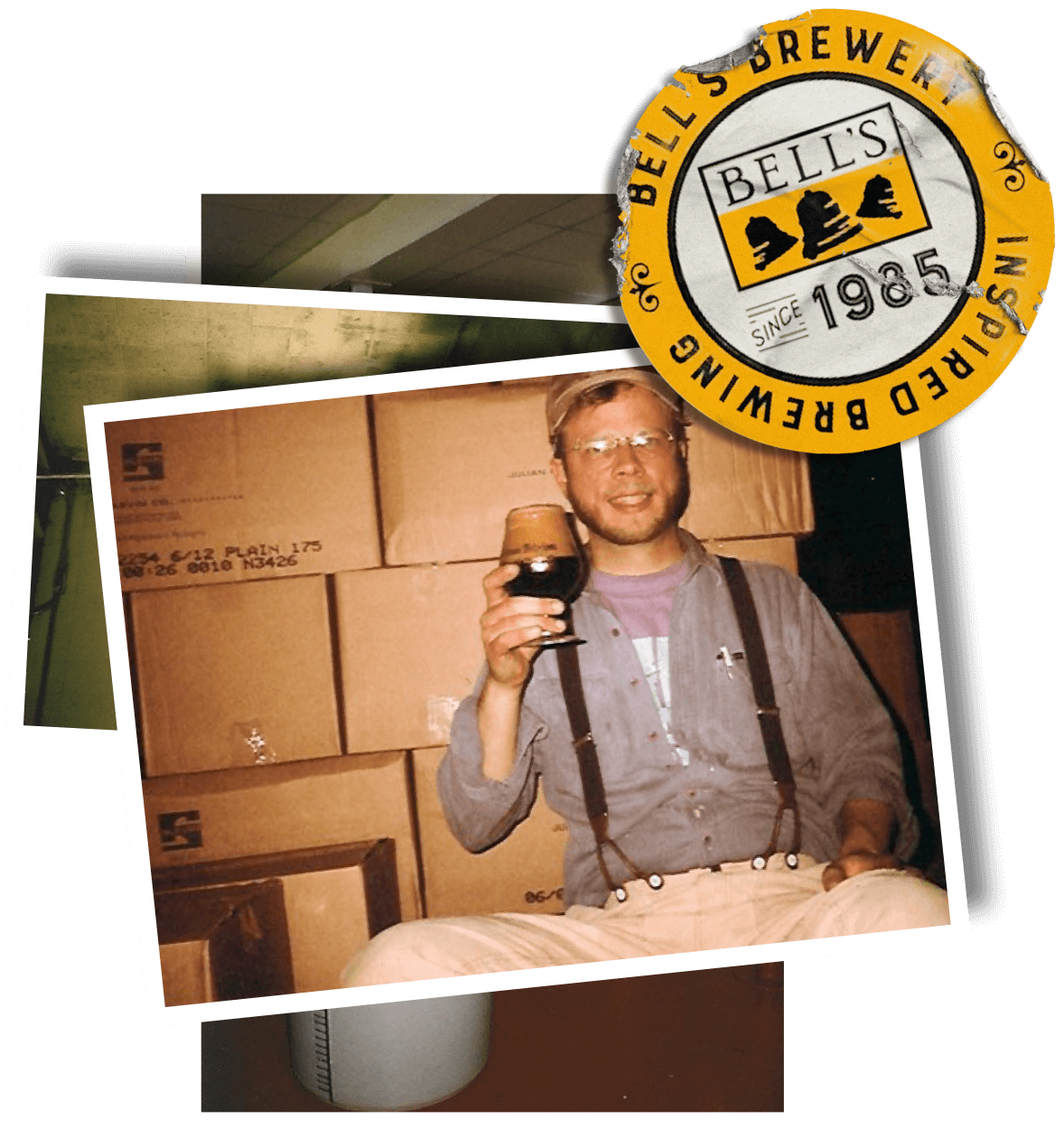 The first Great Lakes Amber Ale (now known as Amber Ale) was brewed. For many local beer drinkers, this was the first craft beer they had and because of its early popularity, it's still referred to as the "beer that built the brewery."


Beer production reached 135 barrels (1 barrel = 31 gallons). Originally self-distributed, Larry and a staff of nine others bottled and delivered everything for the next four years.
First Brewed: Third Coast Beer

An homage to the Great Lakes coastline, Third Coast Beer was crafted before the craft beer market really took hold in the United States. People were afraid of beer called "ale." Even though it was technically a Pale Ale, it was dubbed a "beer" to be more approachable. TCB went to Larry's Library in 2017.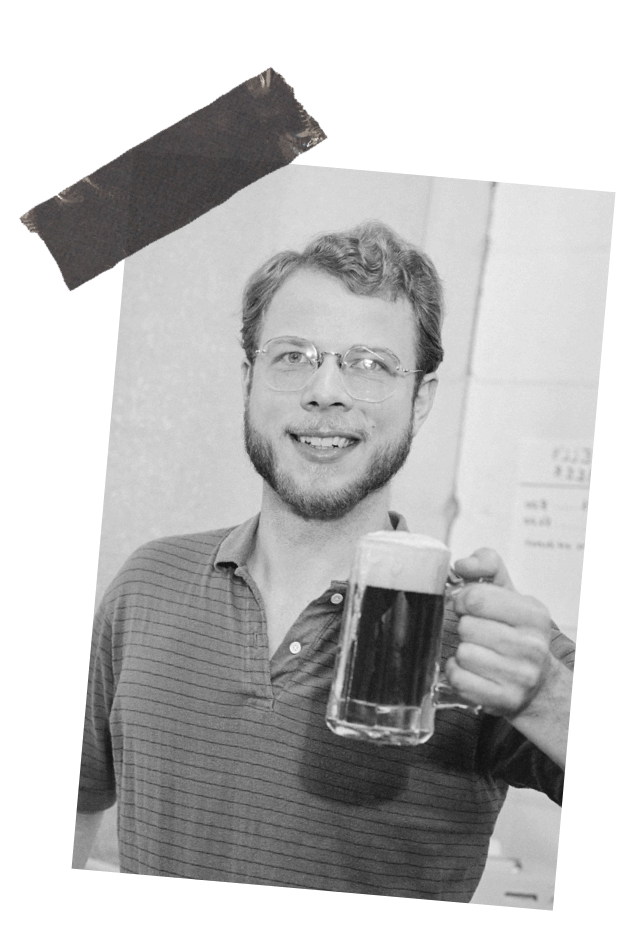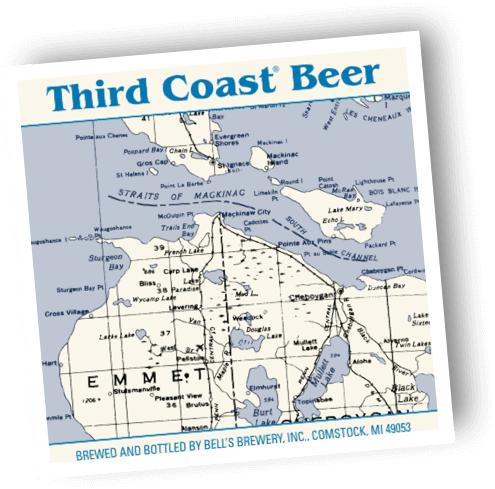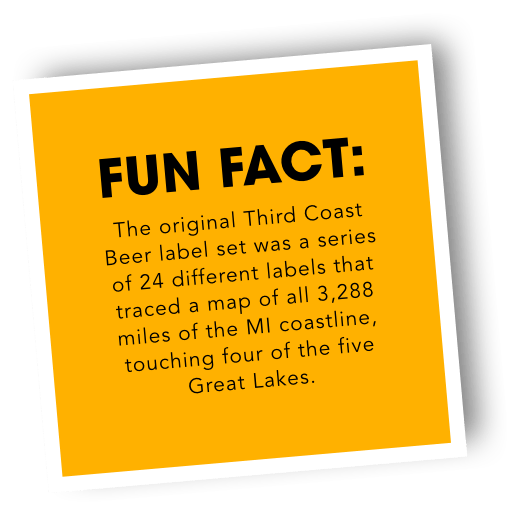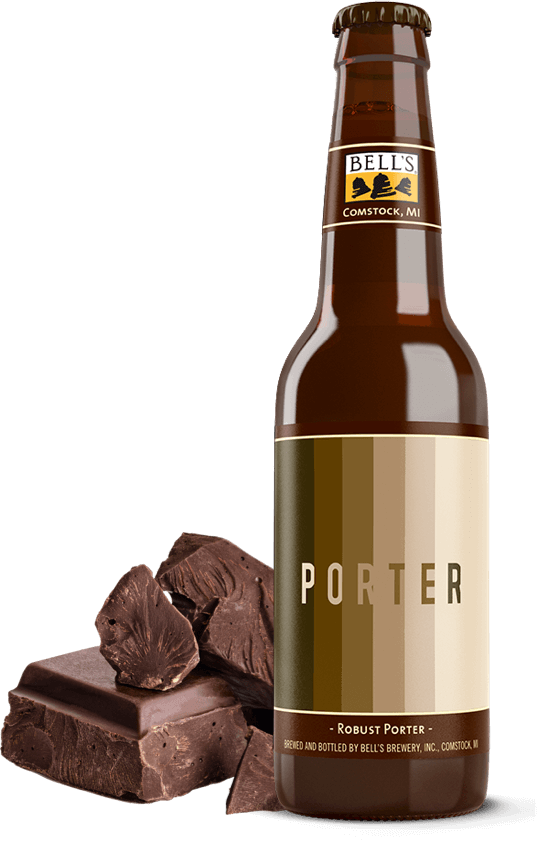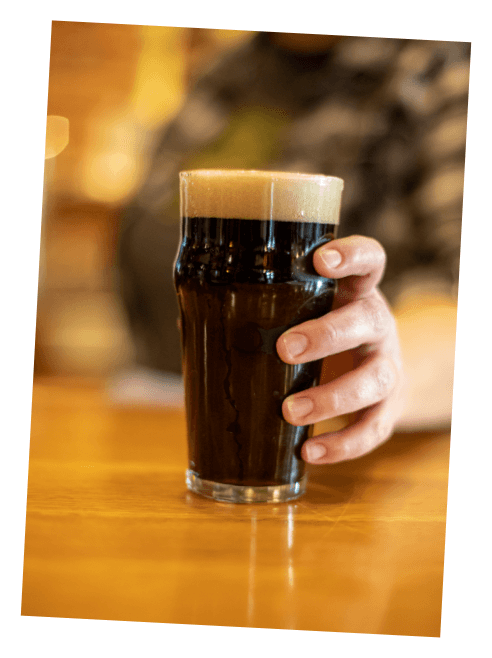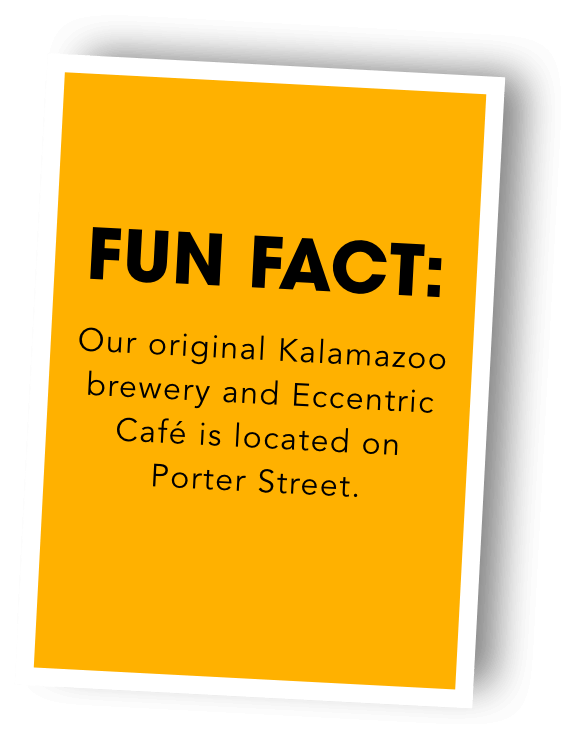 Our award-winning Porter bridges the gap between malty brown ales and heavily roasted stouts. Notes of chocolate, coffee and roasted barley are offset with just a slight hop bitterness. A perfect beer for all seasons! First Brewed: Kalamazoo Stout

The first Kalamazoo Stout, an American stout and one of our most classic recipes, was brewed.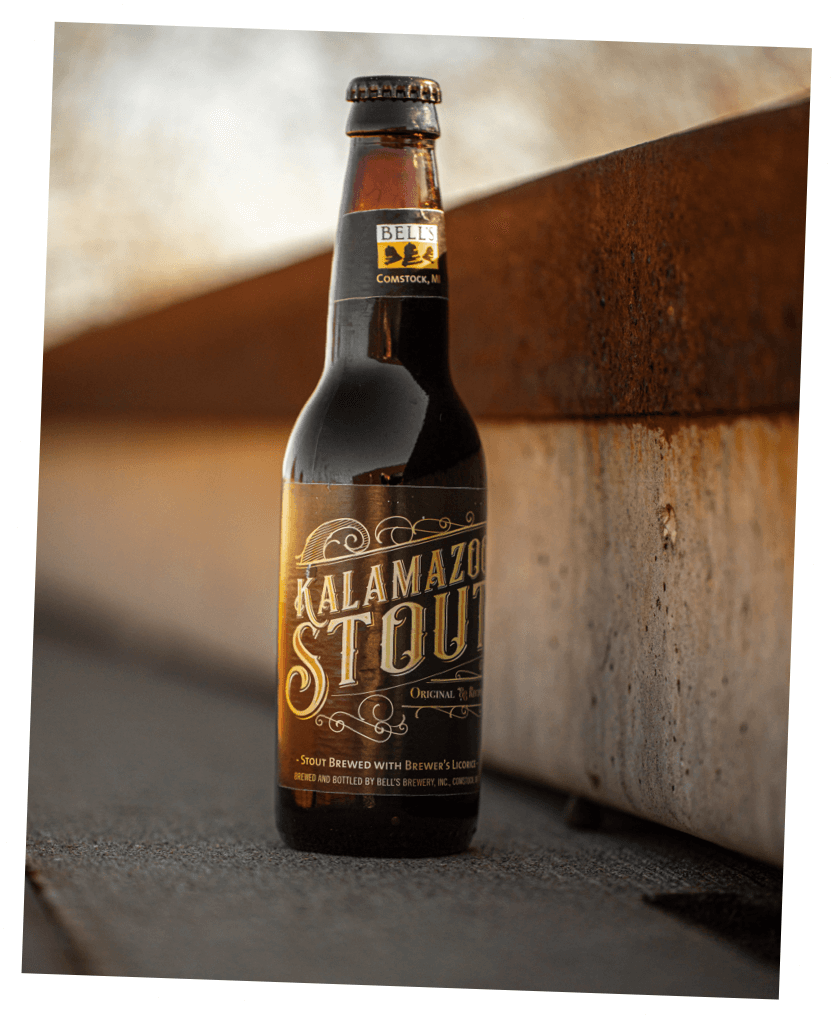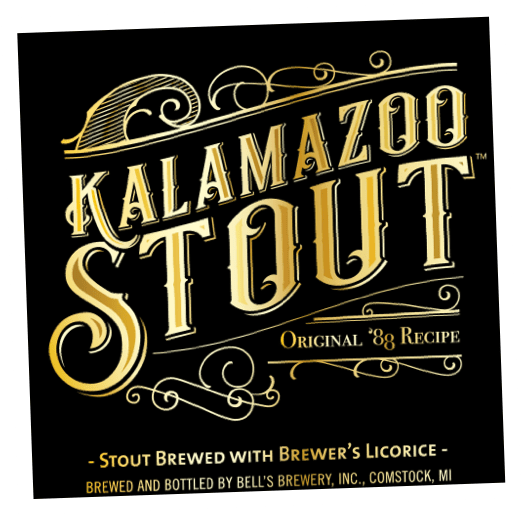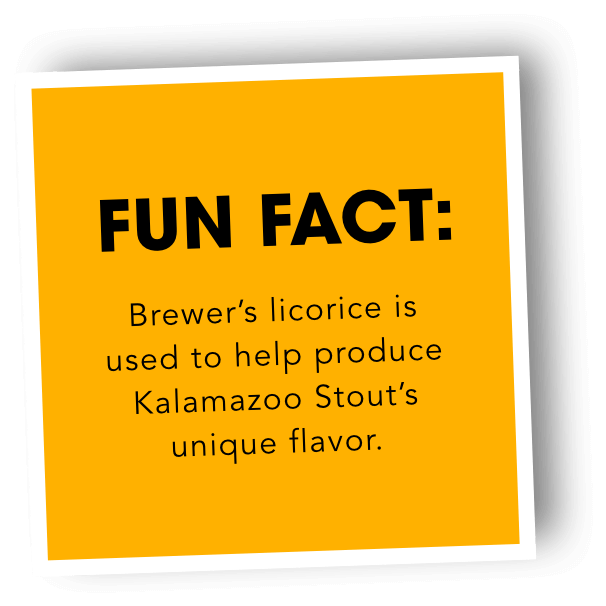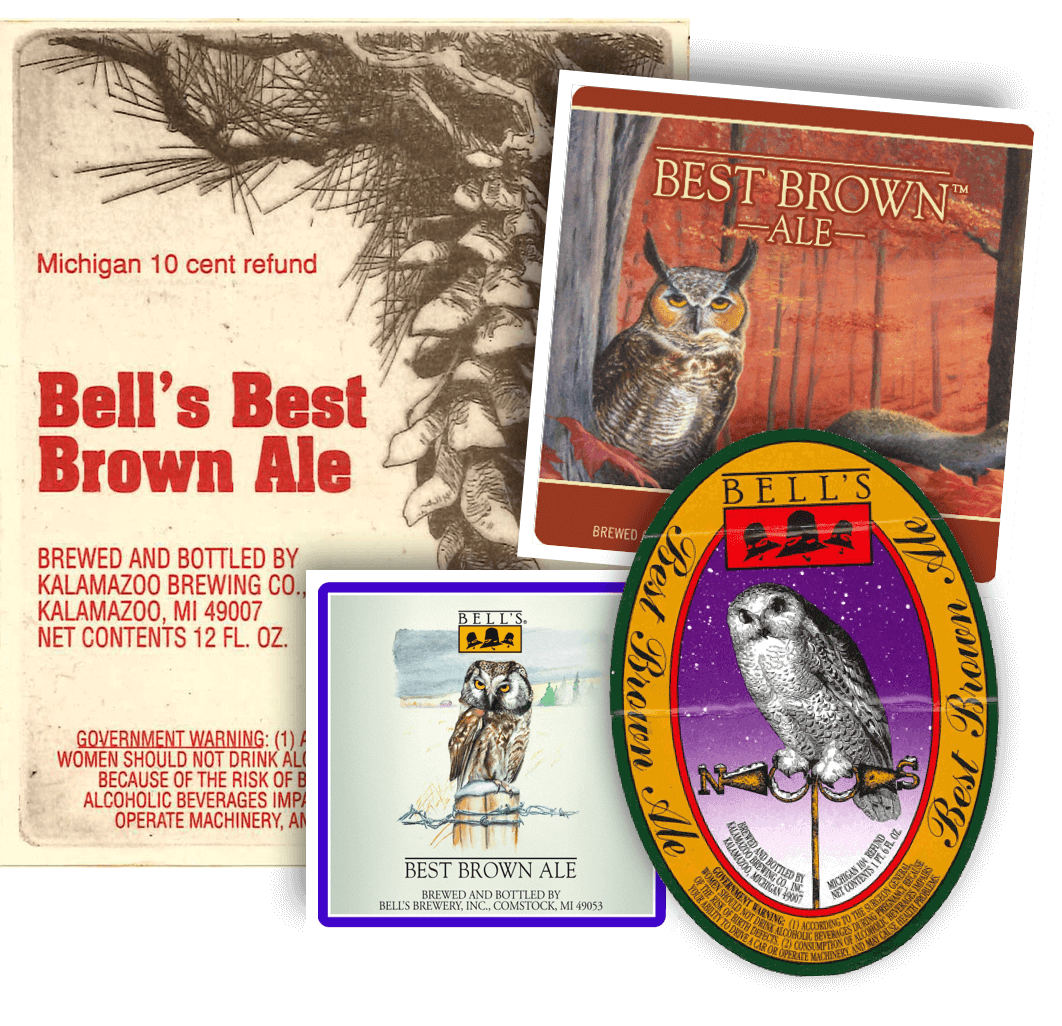 First Brewed: Best Brown Ale

The first Best Brown Ale was brewed. A deep malt body and American hop profile helps this beer bridge the gap between lighter-bodied beers and malty stouts.
First Brewed: Cherry Stout

The first Cherry Stout was brewed, crafted with 100% Montmorency cherries grown in Michigan's Traverse City region. Beers with adjuncts (non-malt sources of fermentable sugar) were uncommon at this point in time.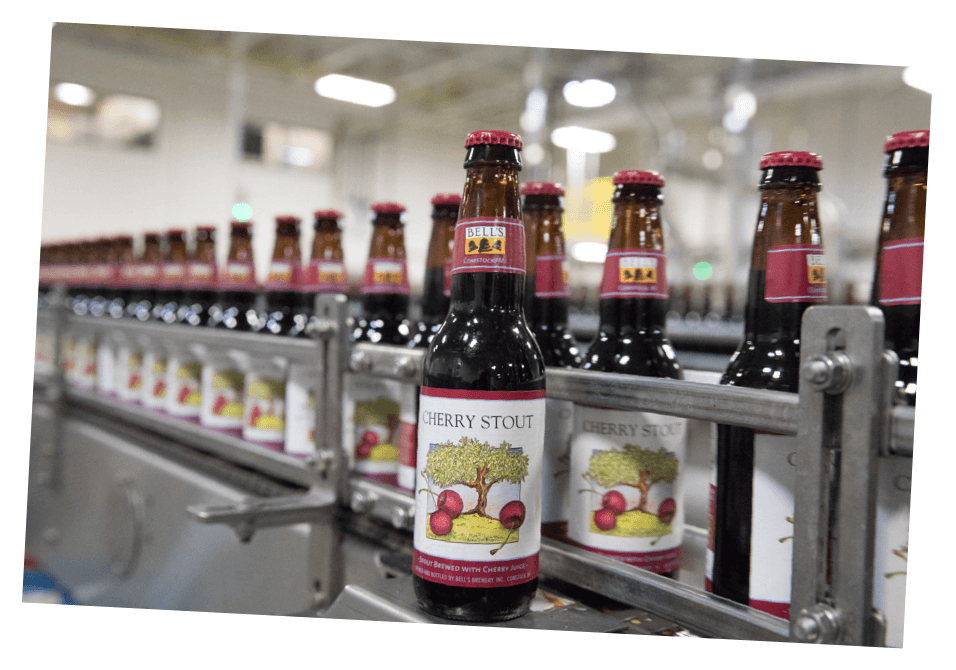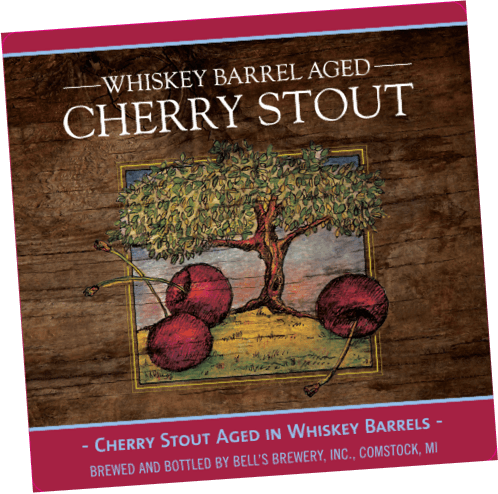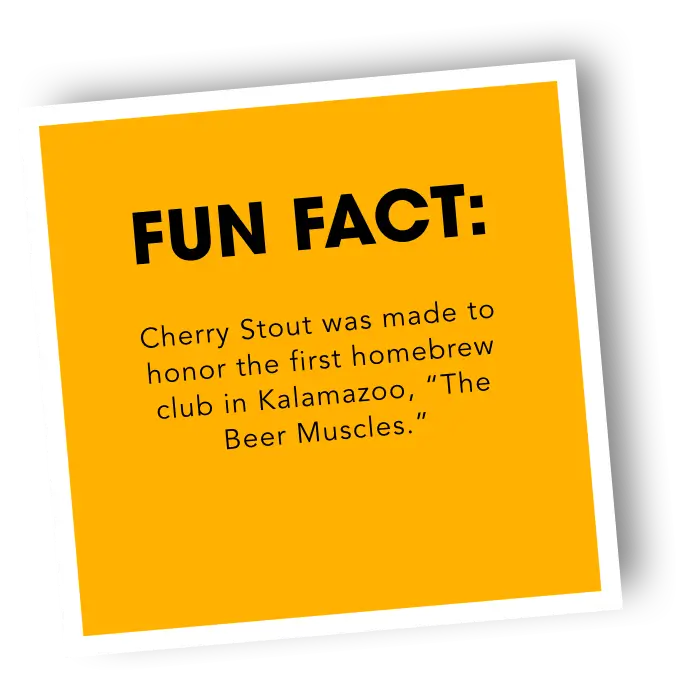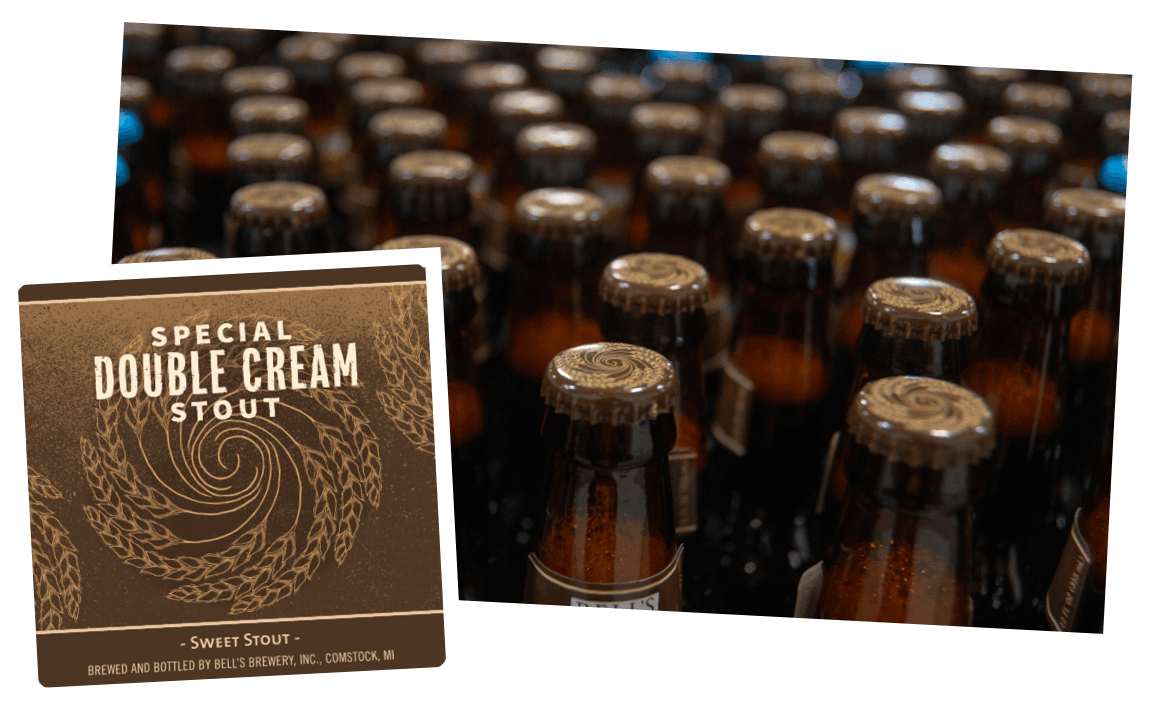 First Brewed: Double Cream Stout

The first Special Double Cream Stout was brewed. Named after its smooth, creamy texture, this beer is brewed with ten different specialty grains and is completely dairy-free.
First Brewed: Third Coast Ale

The first Third Coast Old Ale was brewed. An American barley wine, this beer is named after America's "Third Coast" which surrounds the Great Lakes.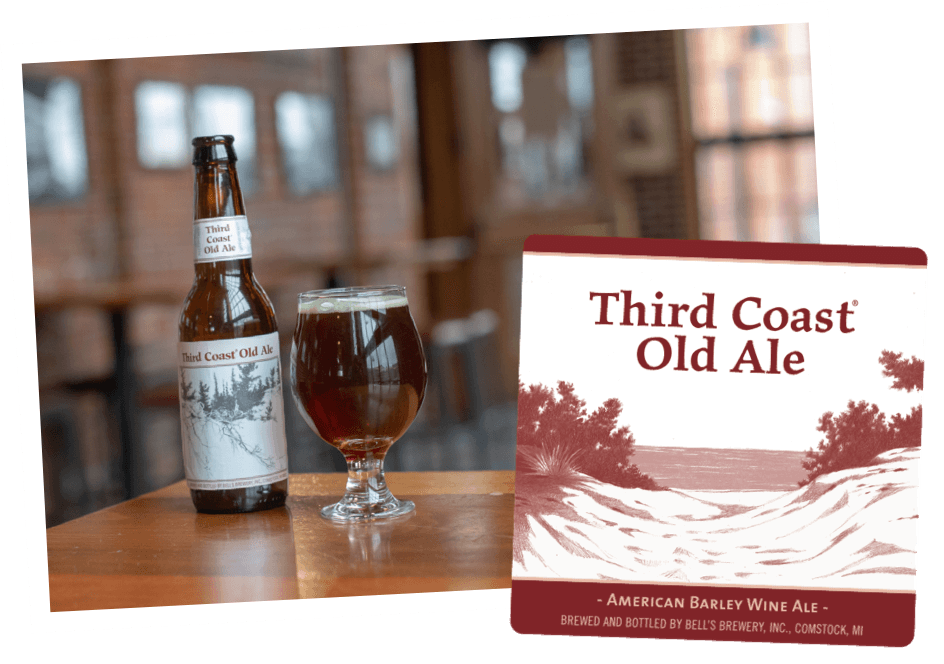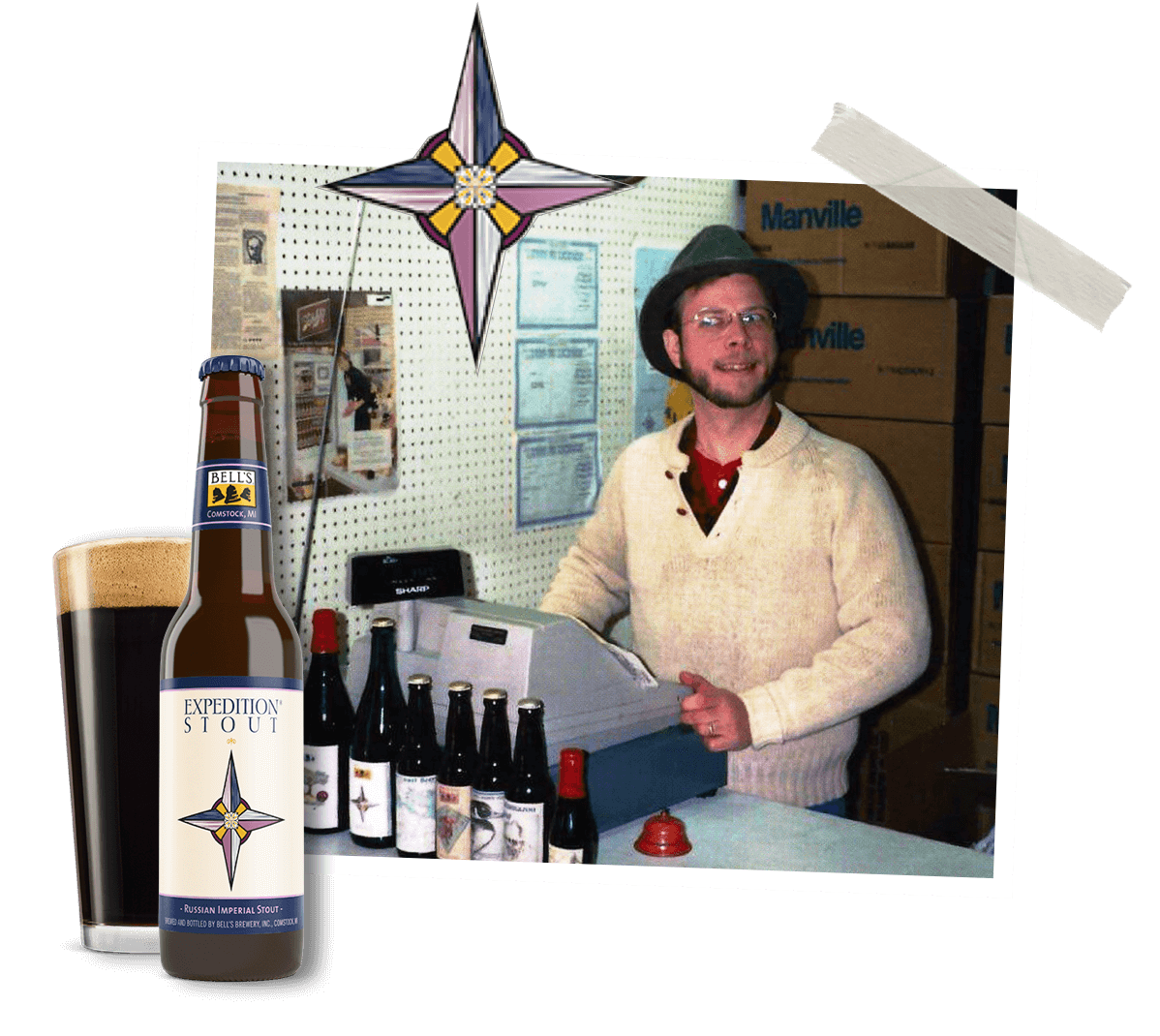 At this time Bell's was brewing so much (more than 500 barrels annually) that we needed a partner to help spread our products across Michigan. Rave Associates, based in Ann Arbor, became our first wholesaler and brought Bell's to all corners of the state. In modern times, Bell's has more than 200 distributors across the country.
First Brewed: Expedition Stout

One of the earliest examples of Russian Imperial Stouts in the United States, our first Expedition Stout was brewed in 1989. It is now the longest-brewed Imperial Stout in the United States.


Brewing capacity increases with the installation of a 2-barrel brew system.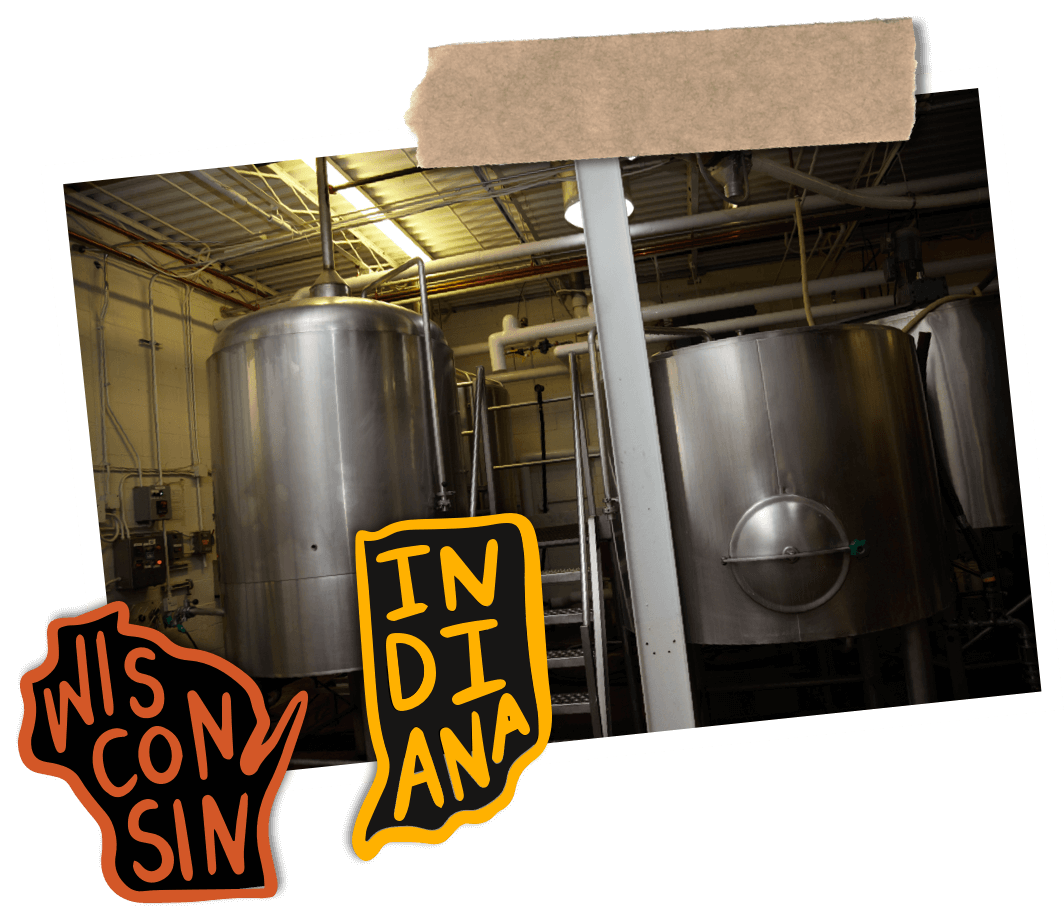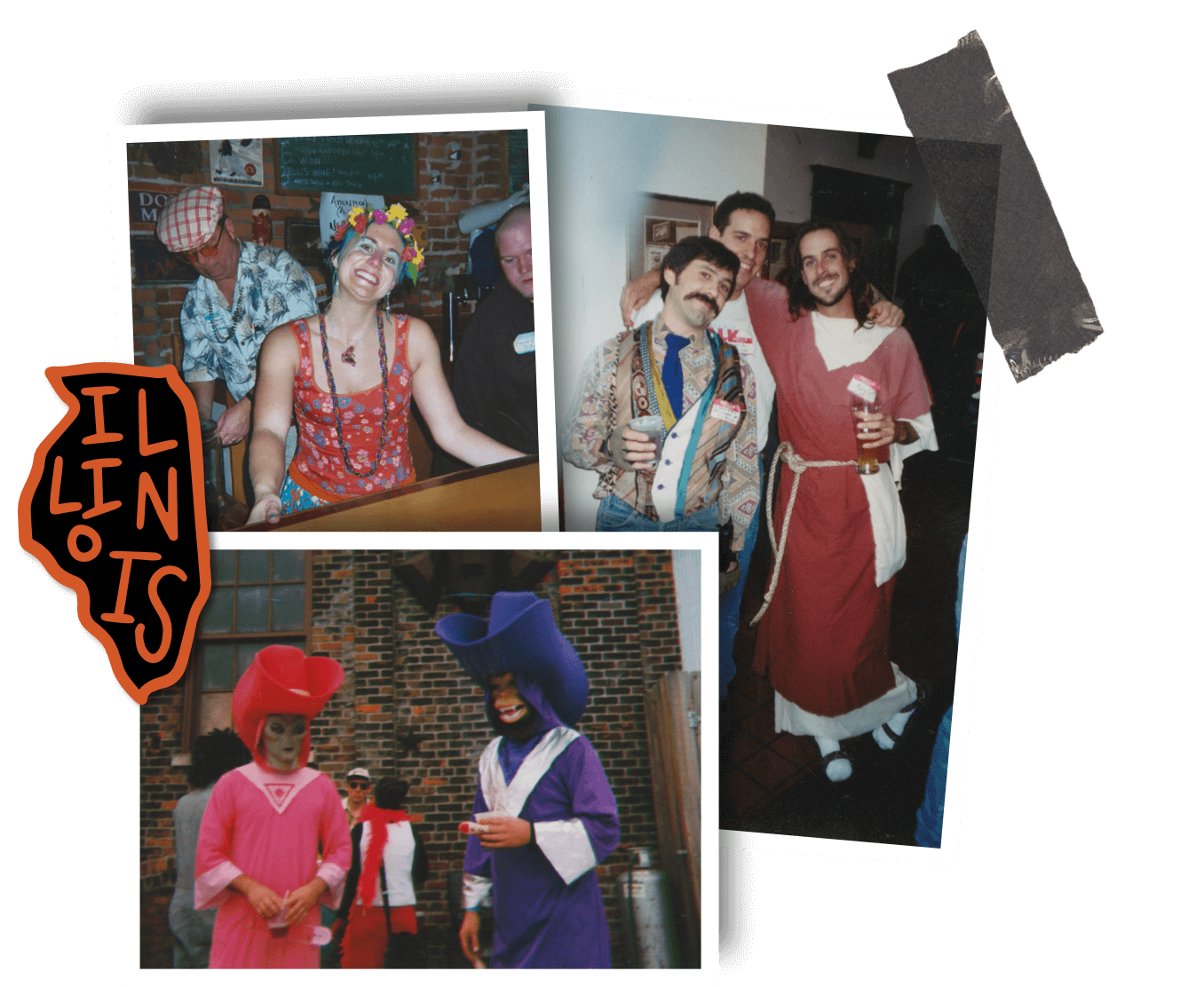 Bell's celebrated its first Eccentric Day. At first a private party for employees, it grew over the years to be one of the most epic parties in craft beer. Every year guests are encouraged to "come as you aren't" and showcase your "too weird for work" alter ego (the side of you that would never show up at the office). It's a day of food, beers, and music celebrating inspiration, individuality, and creativity.

At this time, Bell's had five full-time employees.


A long way from the original soup kettle, a larger, 15-barrel brew system was installed. We still brew on this system to this day.

First brewed as SolSun, Oberon Ale started a revolution in craft beer. It became one of the most iconic brands and introduced a whole generation of beer drinkers to craft. Oberon release day has become an annual celebration of friends, the approach of warmer weather, and the start of baseball season.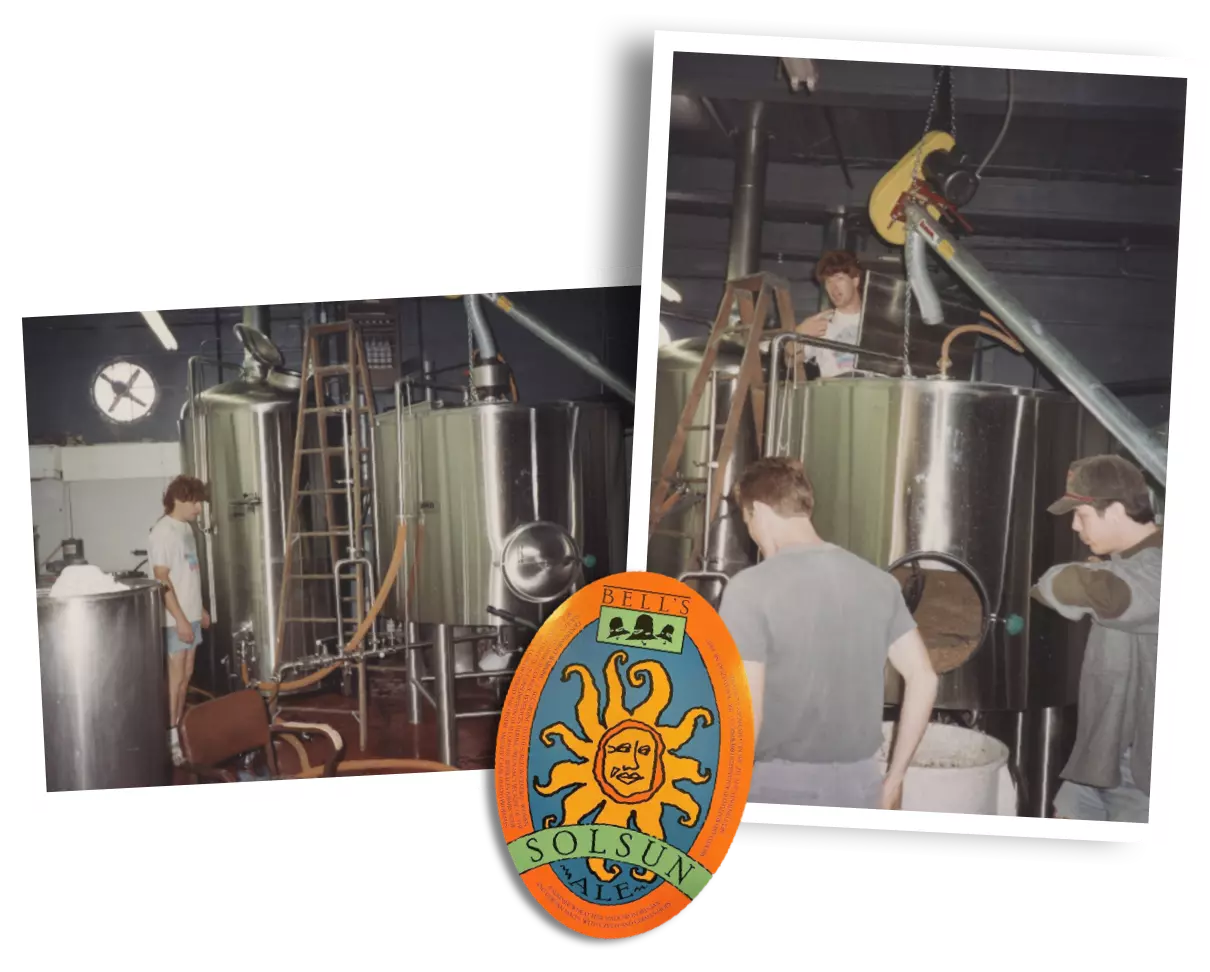 June 11
Eccentric Café Officially Opens

Bell's became the first Michigan brewery to open an onsite pub, the Eccentric Café at 355 E. Kalamazoo Ave, after Larry worked with the Michigan Legislature to change state law regarding breweries selling beer in tap rooms.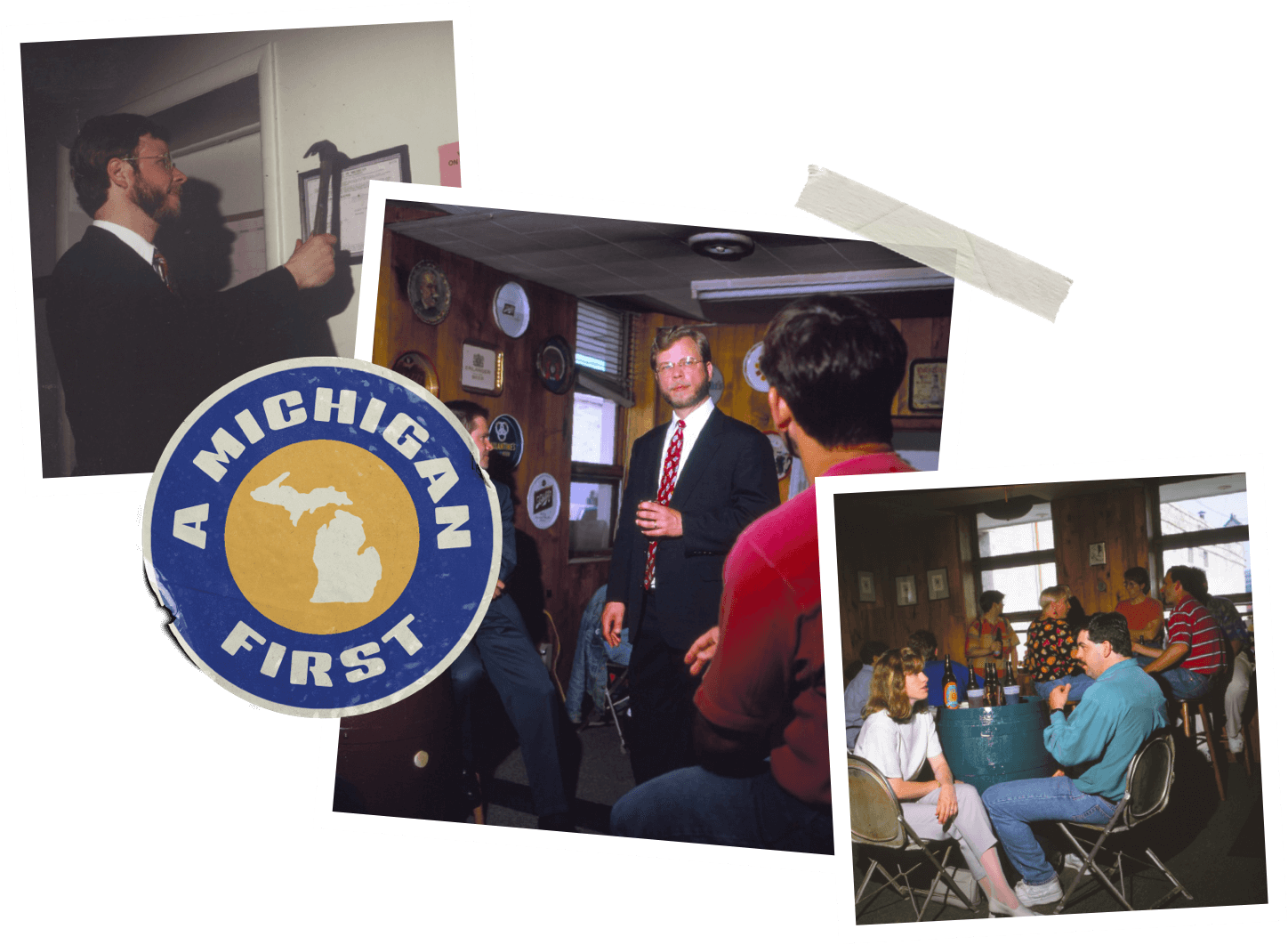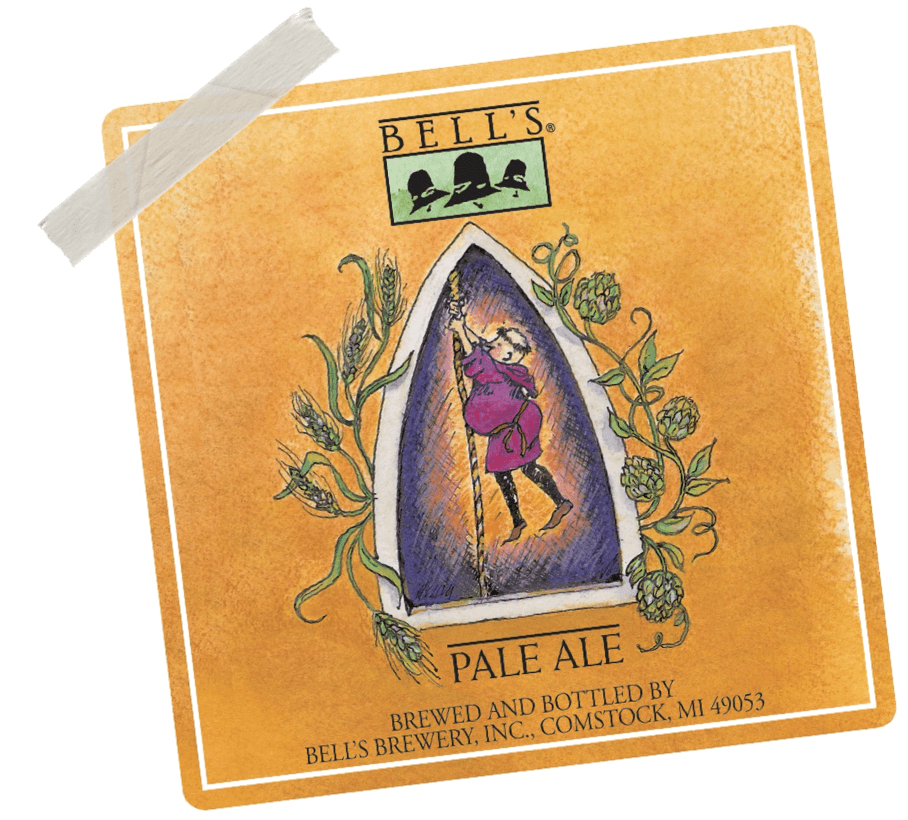 Michael Jackson Pays a Visit

The acclaimed beer and whiskey writer (not the other guy) visited what was then known solely as the Kalamazoo Brewing Company, which helped boost the reputation of the young brewery.
First Brewed: Bell's Pale Ale

One of the earliest Bell's beers, Pale Ale was renamed Midwestern Pale Ale in 2012. That recipe used barley from the Bell's Farm (no longer affiliated with the brewery) in Shepherd, Michigan and the original label featured a painting of the barn and silo by a local Kalamazoo artist.

This outdoor space beside the Eccentric Café officially made its debut. It has grown by leaps and bounds ever since, hosting events and concerts by popular artists such as Bruce Hornsby, George Clinton, Billy Strings, Greensky Bluegrass, and Kurt Vile.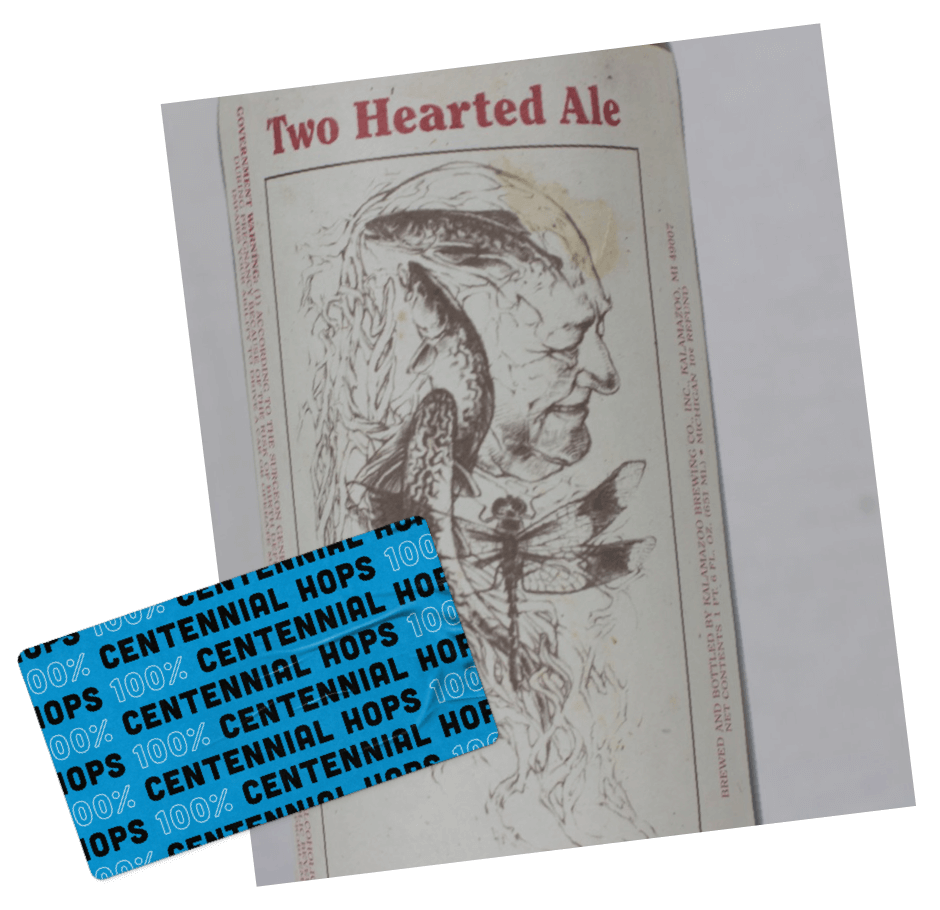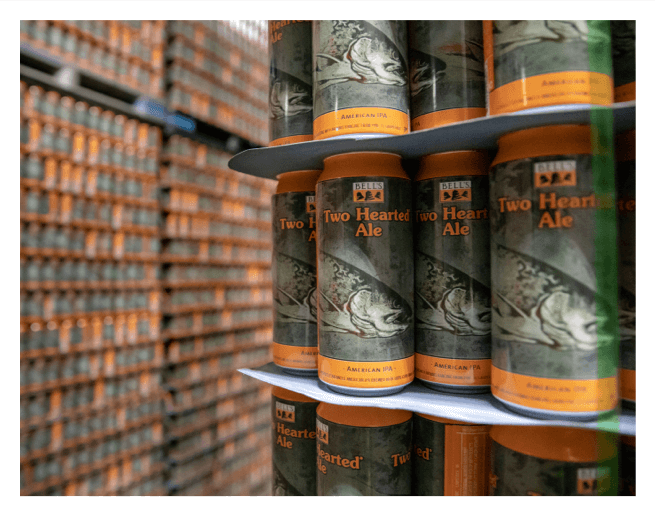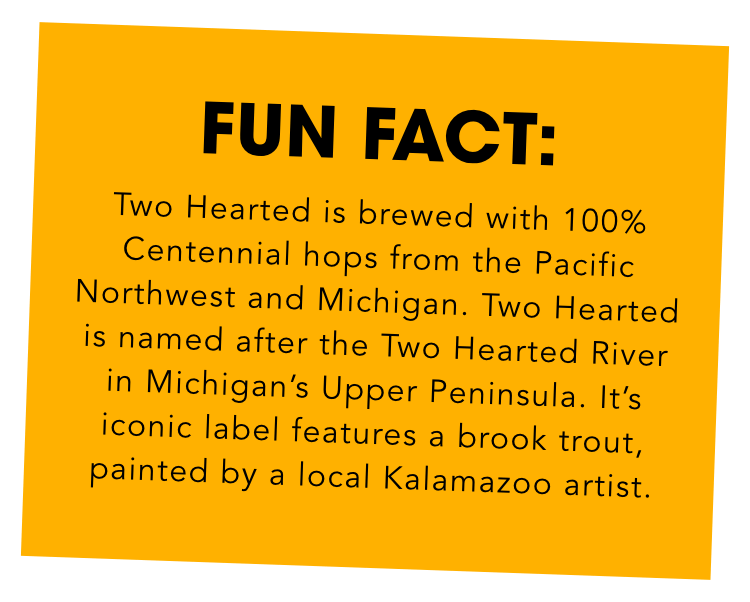 A brand new 30-barrel system gets installed.
First Brewed: Two Hearted

The first version of Two Hearted debuted in the late 1980s as a Pale Ale brewed with English malt and Wisconsin-grown hops (the two "hearts"). The Two Hearted we know and love today debuted in 1997 as a winter seasonal. In 2003, it became a year round offering and surpassed Oberon as Bell's best-seller in 2013.

Bell's purchased five acres in Comstock Township, Michigan, seven miles east from Bell's original downtown Kalamazoo brewery. This new land soon became the home of Bell's main brewery. The Kalamazoo location continues to brew experimental and exclusive beers for the Eccentric Café and is open for tours.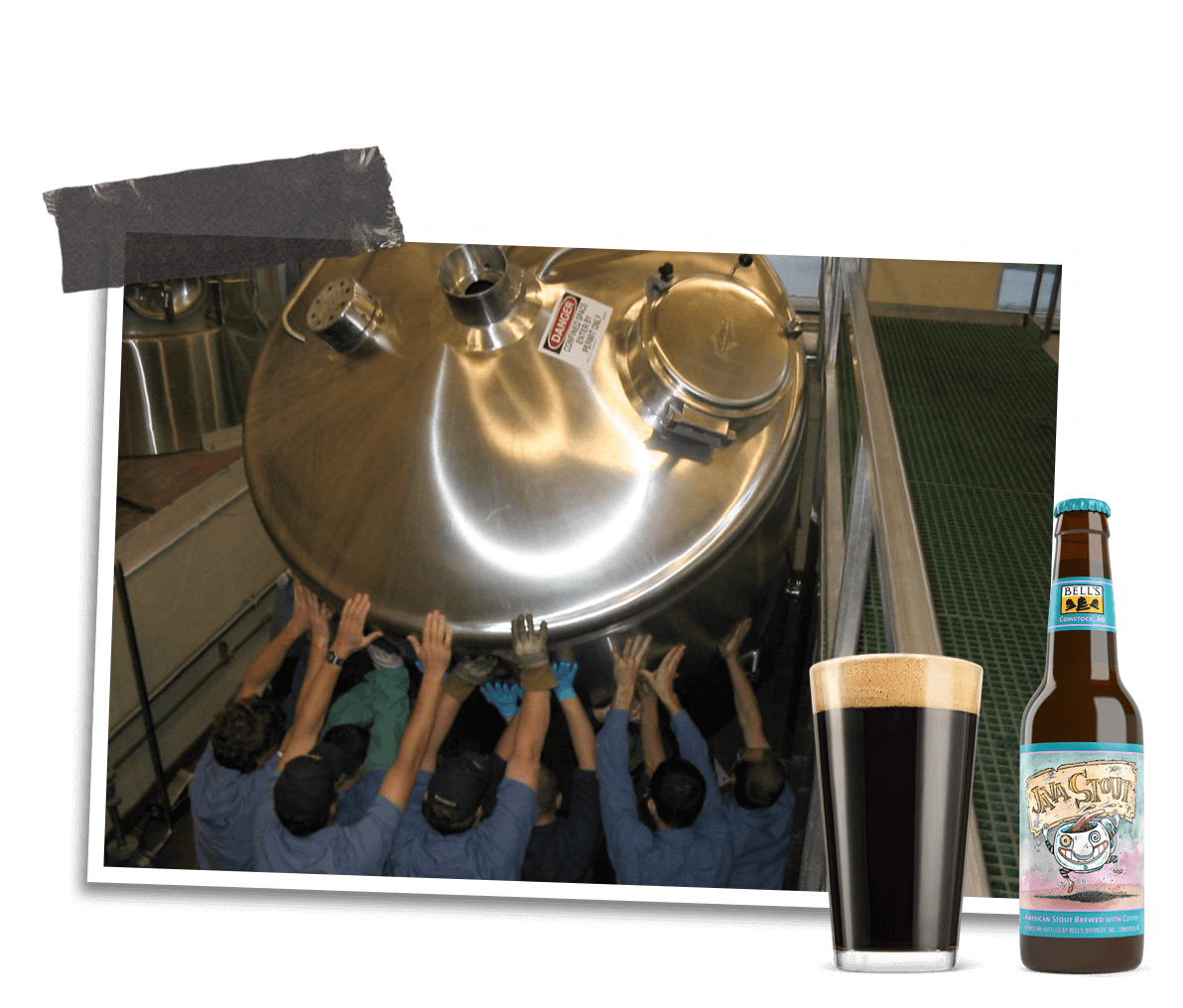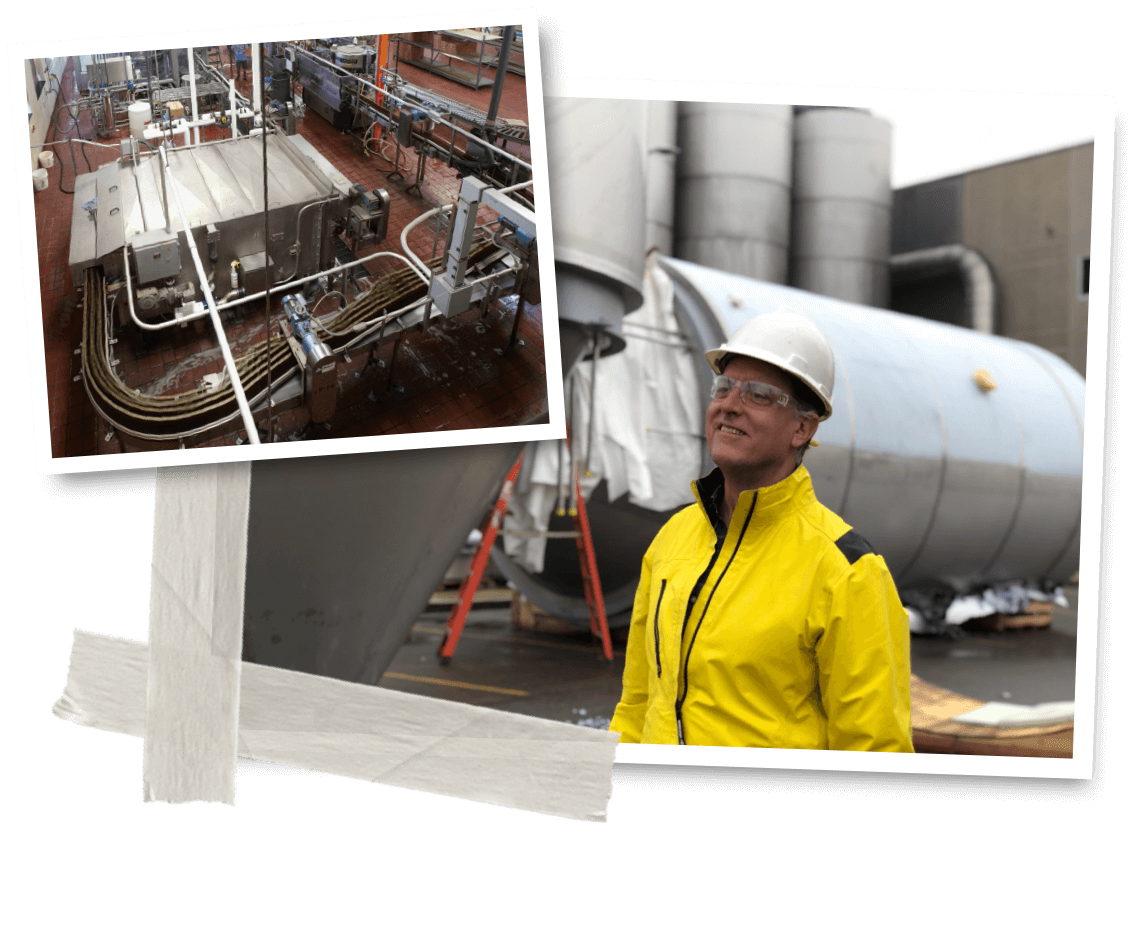 Comstock Construction Complete

Equipment was moved in at Bell's new Comstock brewery and the first beer was brewed.
First Brewed: Winter White Ale

Comstock Brewery Open for Business

Bell's Comstock brewery opened about seven miles east of Kalamazoo on a 32-acre site. The original footprint was just over 35,000 square feet. The construction brought John Mallett to Bell's, who would oversee brewery operations for the coming decades.

Our Comstock Brewery received an additional way to package Bell's beer through keg line automation.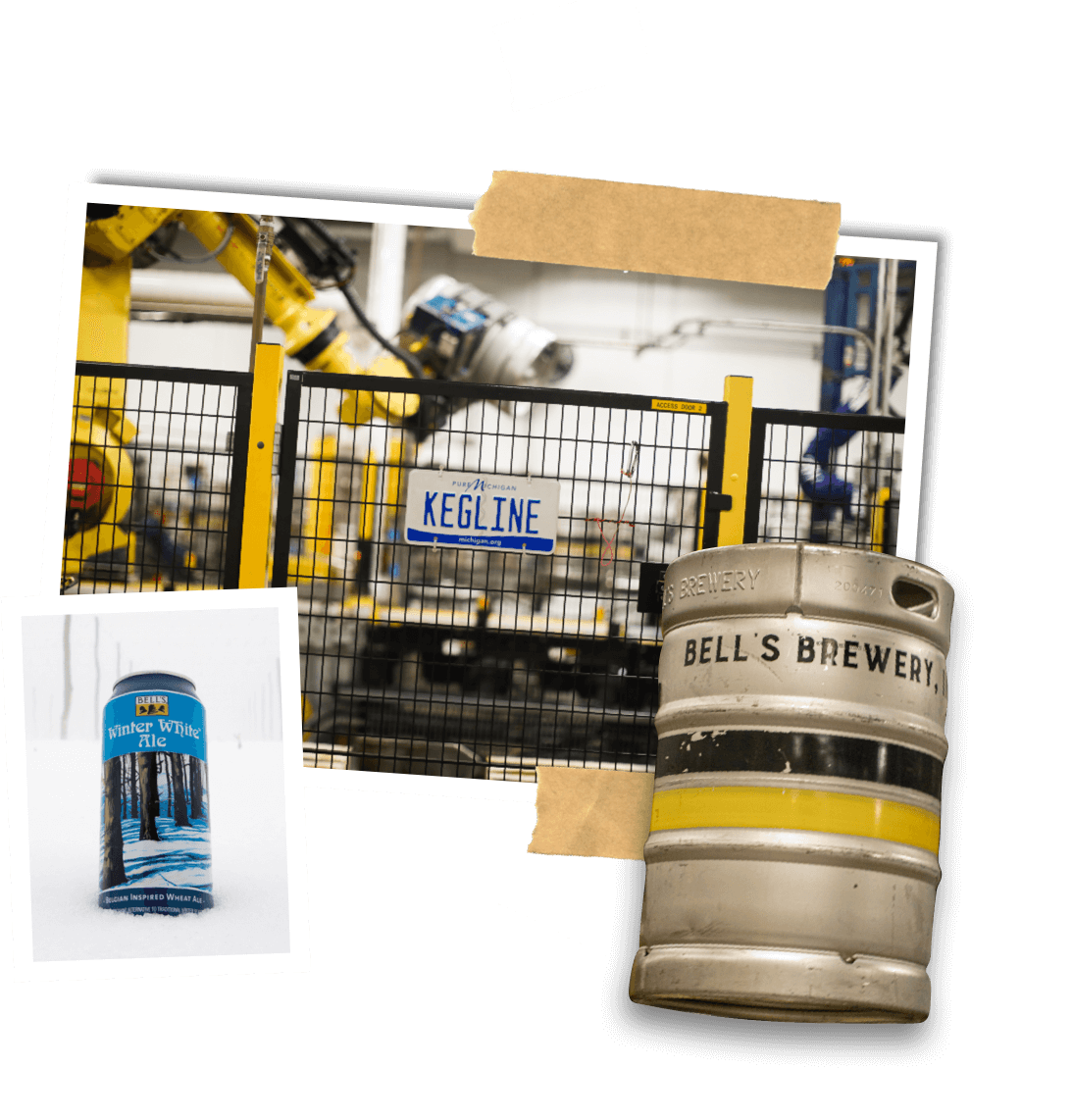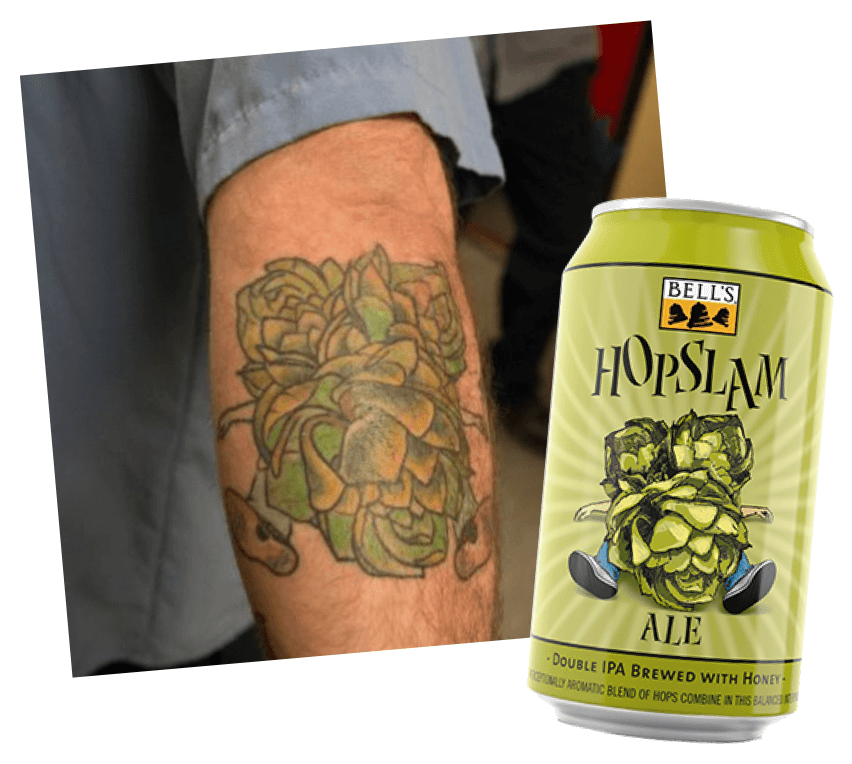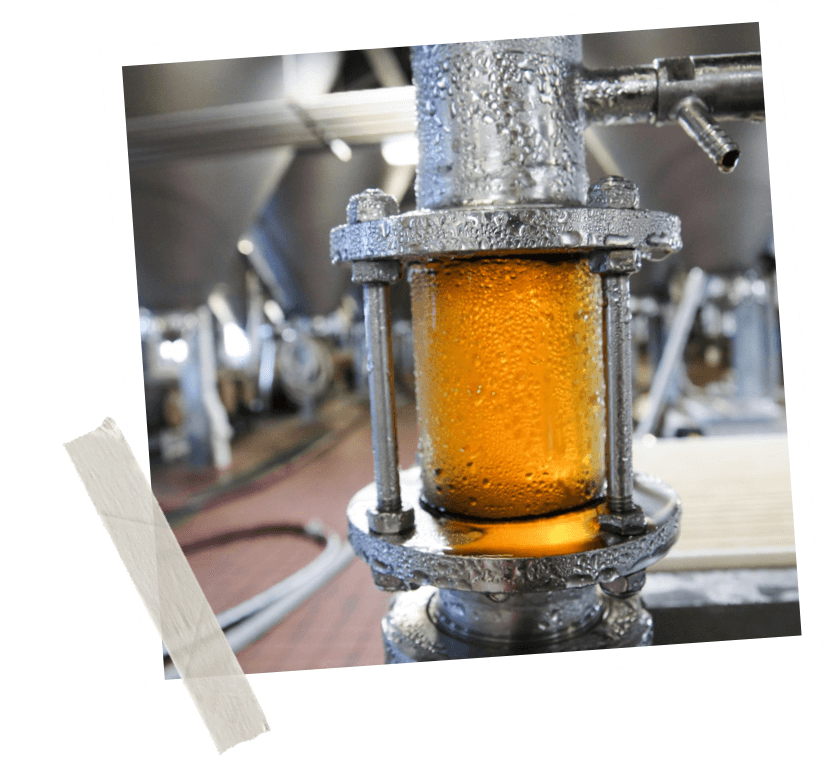 First Brewed: Hopslam Ale


Our Comstock Brewery expanded for the first time, but not the last. Construction continued in stages from here on out.

An Anton Paar instrument for measuring alcohol, density, and estimating calories was installed in the Bell's Quality Lab.
First Brewed: Lager of the Lakes

First Brewed: Octoberfest

Spending a full six weeks fermenting, the first Octoberfest Beer was brewed as a flavorful session beer perfect for fest season.
First Brewed: Consecrator Doppelbock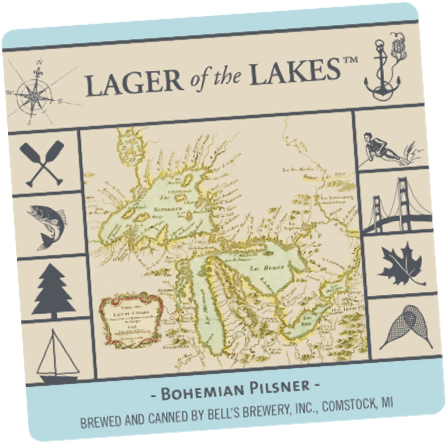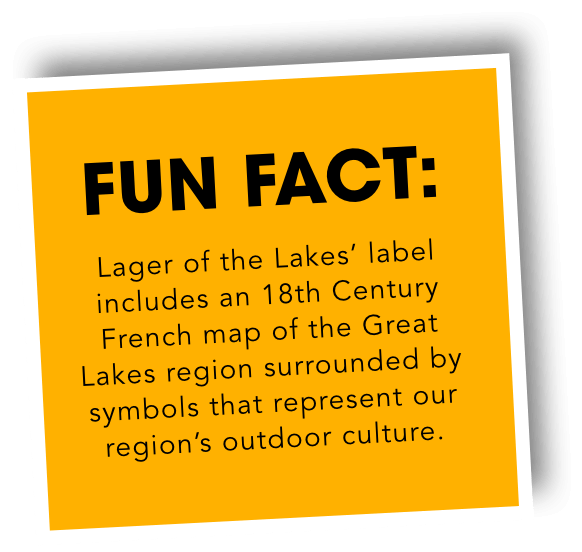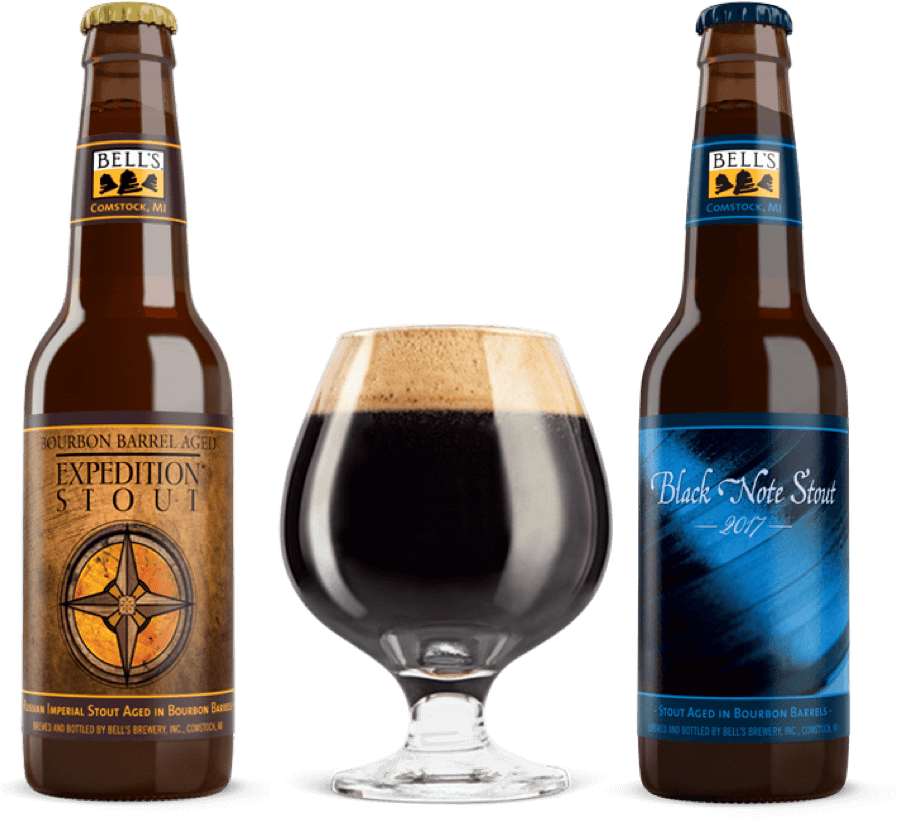 The first fermentation cellar expansion at the Comstock brewery was announced.
First Brewed: Black Note Stout

Black Note, one of the most sought-after stouts in Bell's history, was first brewed.
First Brewed: Bourbon Barrel Aged Expedition Stout


More than
 100,000
 barrels shipped in one year.
First Brewed: Hopsoulution

First Brewed: Christmas Ale

Our holiday-themed Scotch ale was first brewed.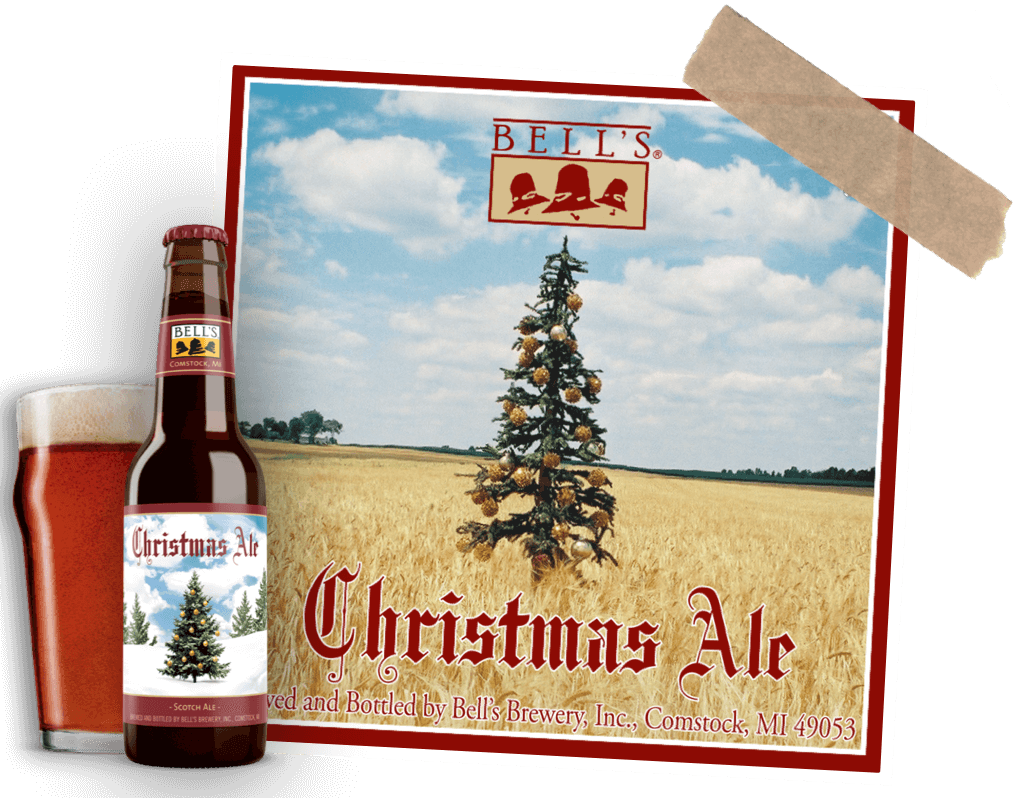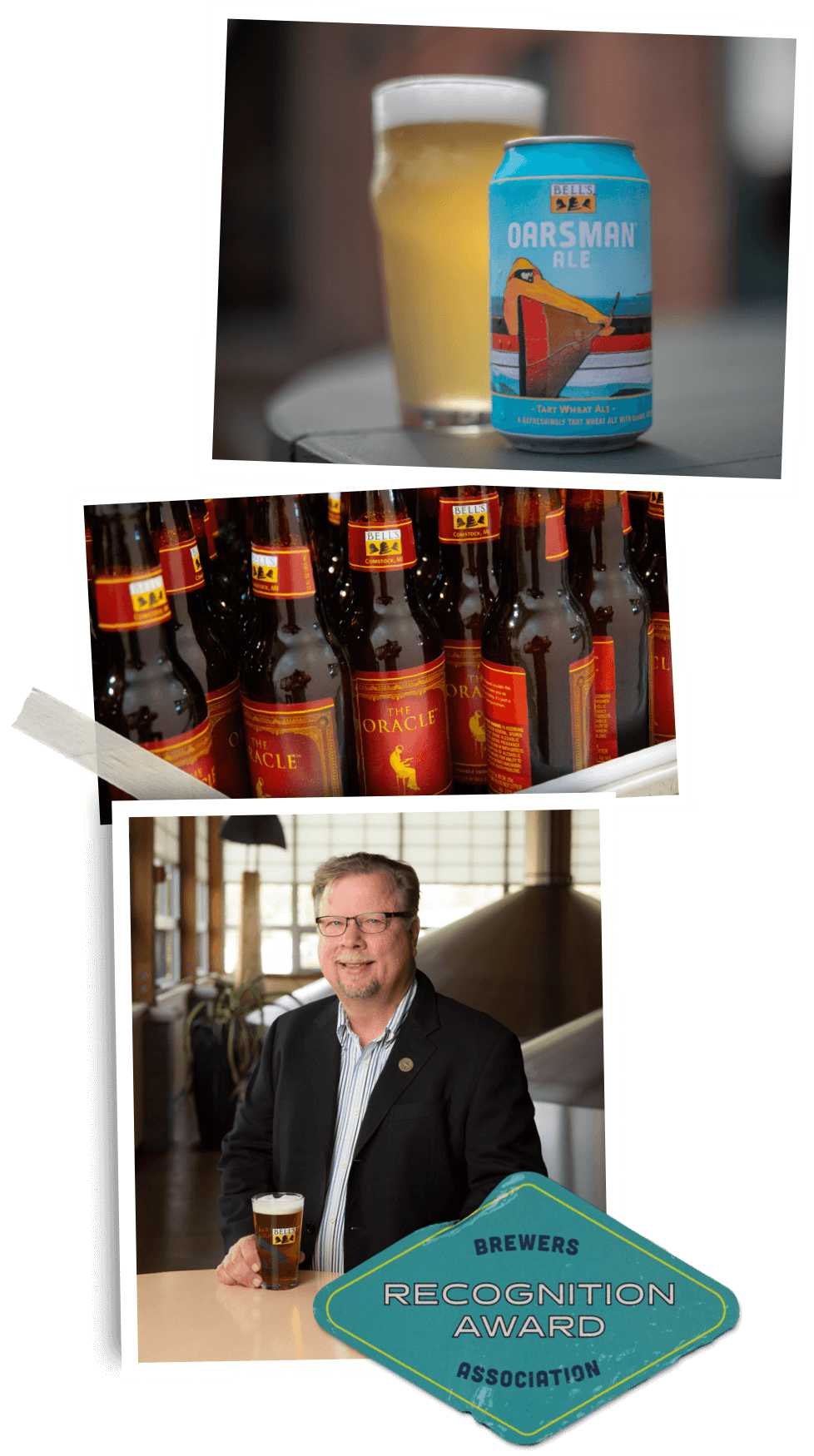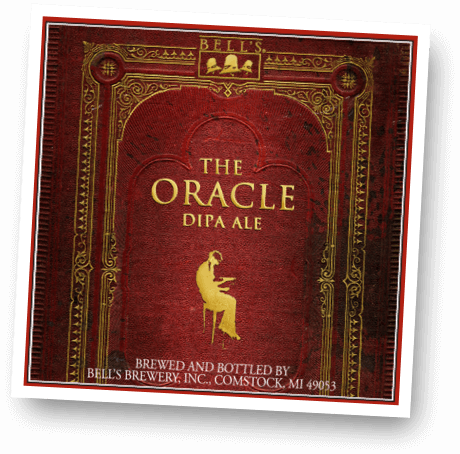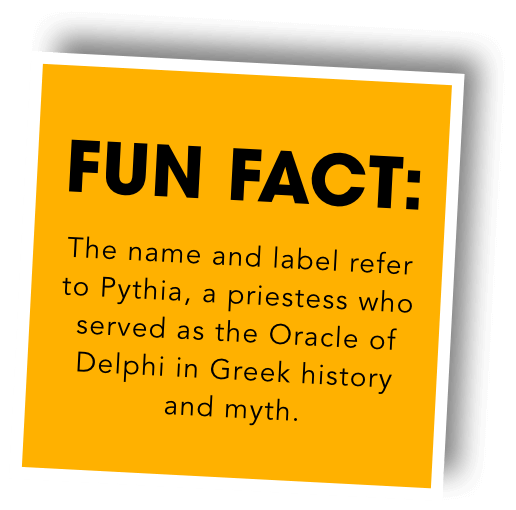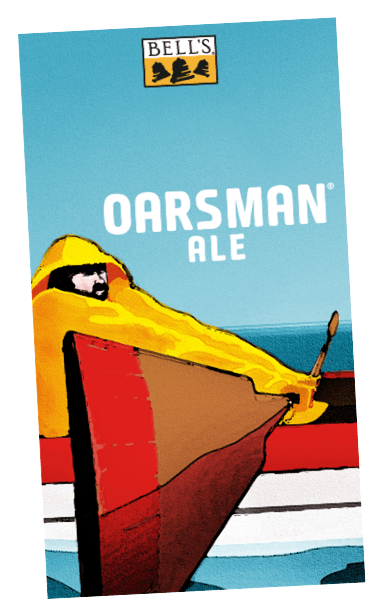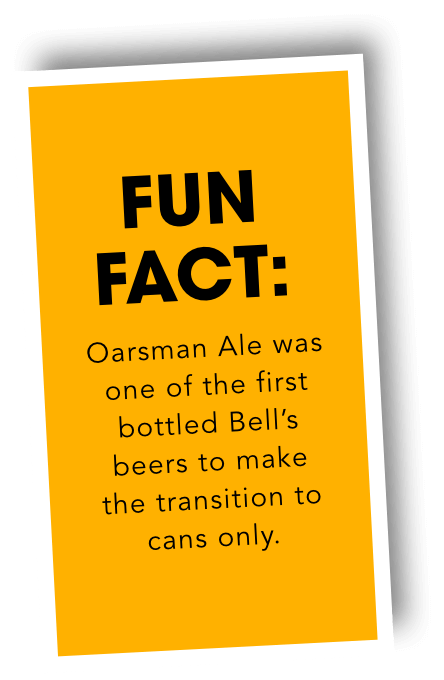 First Brewed: Oarsman Ale

Oarsman Ale grew out of a desire to explore the tradition of session beers, trading intensity for finesse while still creating a flavorful experience. A groundbreaking beer when it was released, Oarsman was removed from our year-round lineup in 2019 and is currently retired.

Larry Bell wins Brewers Association Recognition Award

Larry was honored at the 2010 Brewers Association Achievement Awards for Bell's innovative brewing and dedication to the industry including acting as a driving force with then Denver mayor (now US senator) John Hickenlooper for the creation of American Beer Month (now American Craft Beer Week). 
The Eccentric Cafe Reopens

After $3 million in renovations, our Eccentric Café reopened, transformed into a state-of-the-art music venue with expanded restrooms, additional seating options, a transformed Beer Garden, a new patio, and a new main entryway.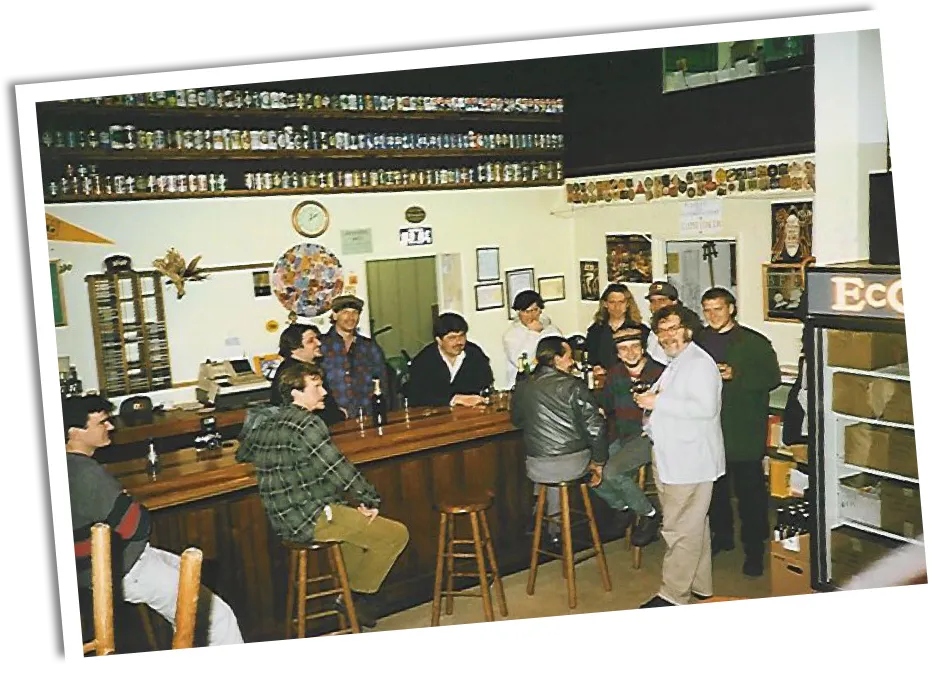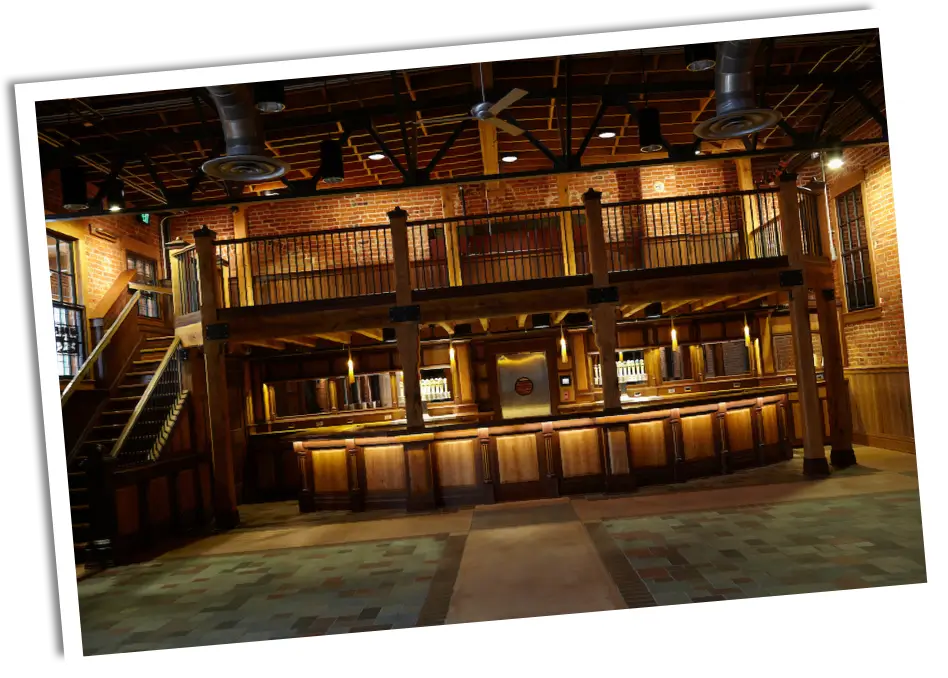 Golden Rye Ale (now known as Smitten) was originally part of a series of rye beers released in 2010, and it was part of our seasonal lineup (spring release) from 2013 through 2017. It returns on occasion as a draft option.

200,000 barrels shipped in one year.

This expansion included a brand new American-made 200-barrel brewhouse, fourteen 400-barrel dry hop fermenters for Two Hearted, as well as grain storage and geothermal field installations.
Apr. 25
Introducing Upper Hand Brewery

Construction began on our first ever sister brewery, Upper Hand Brewery in Escanaba, located within Michigan's upper peninsula.
First Brewed: Sparkleberry

The first Sparkleberry, an American interpretation of a Belgian-style tripel brewed with raspberries, was released at Kalamazoo Pride in 2013 to celebrate our sponsorship of the event.


Our first full-time microbiologist is hired as part of the Bell's quality team.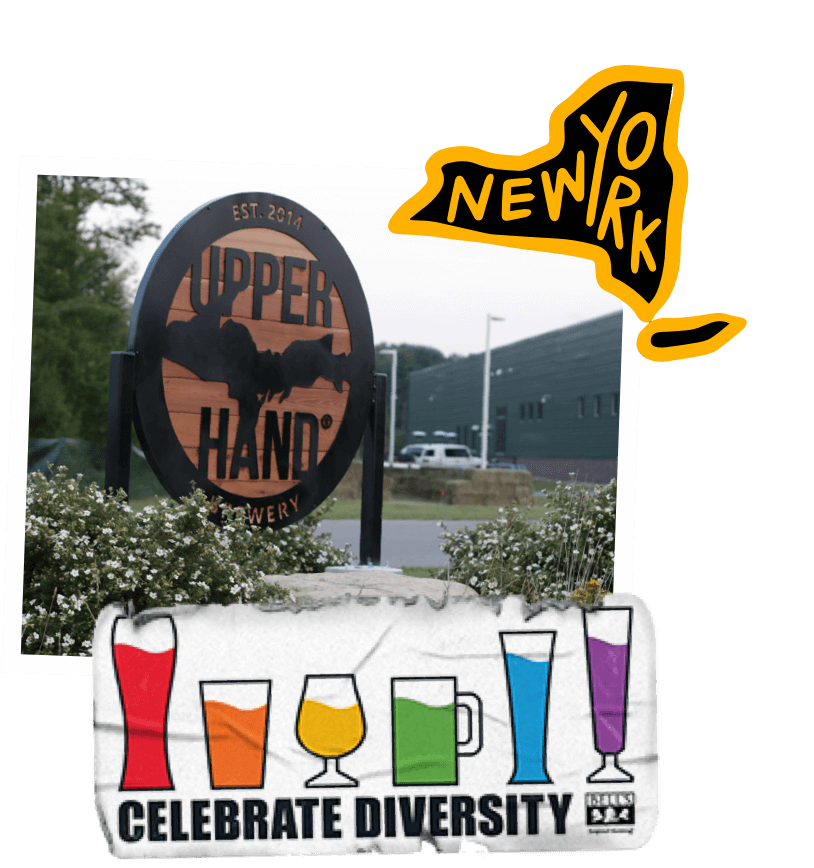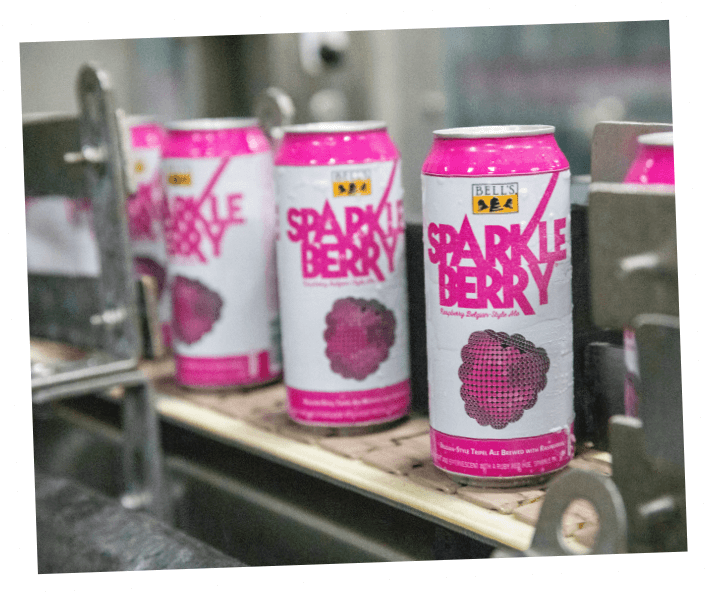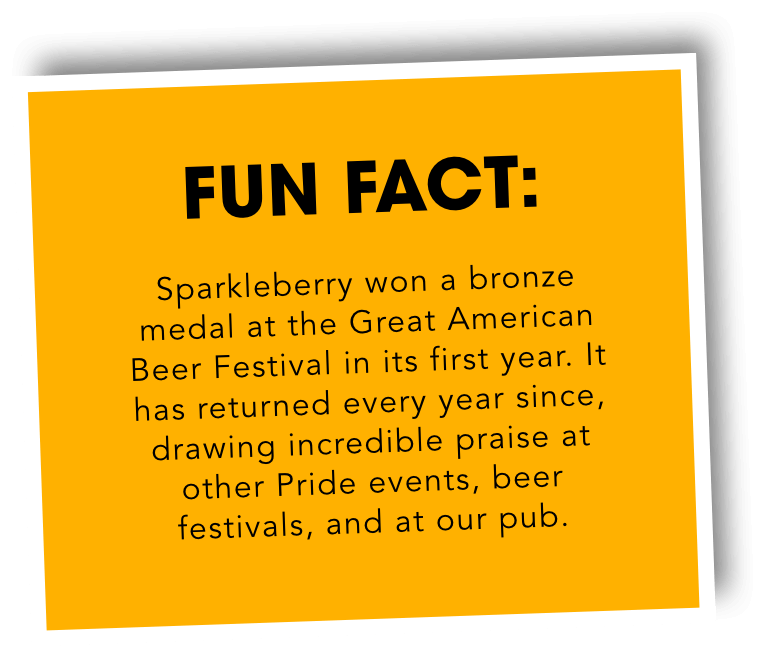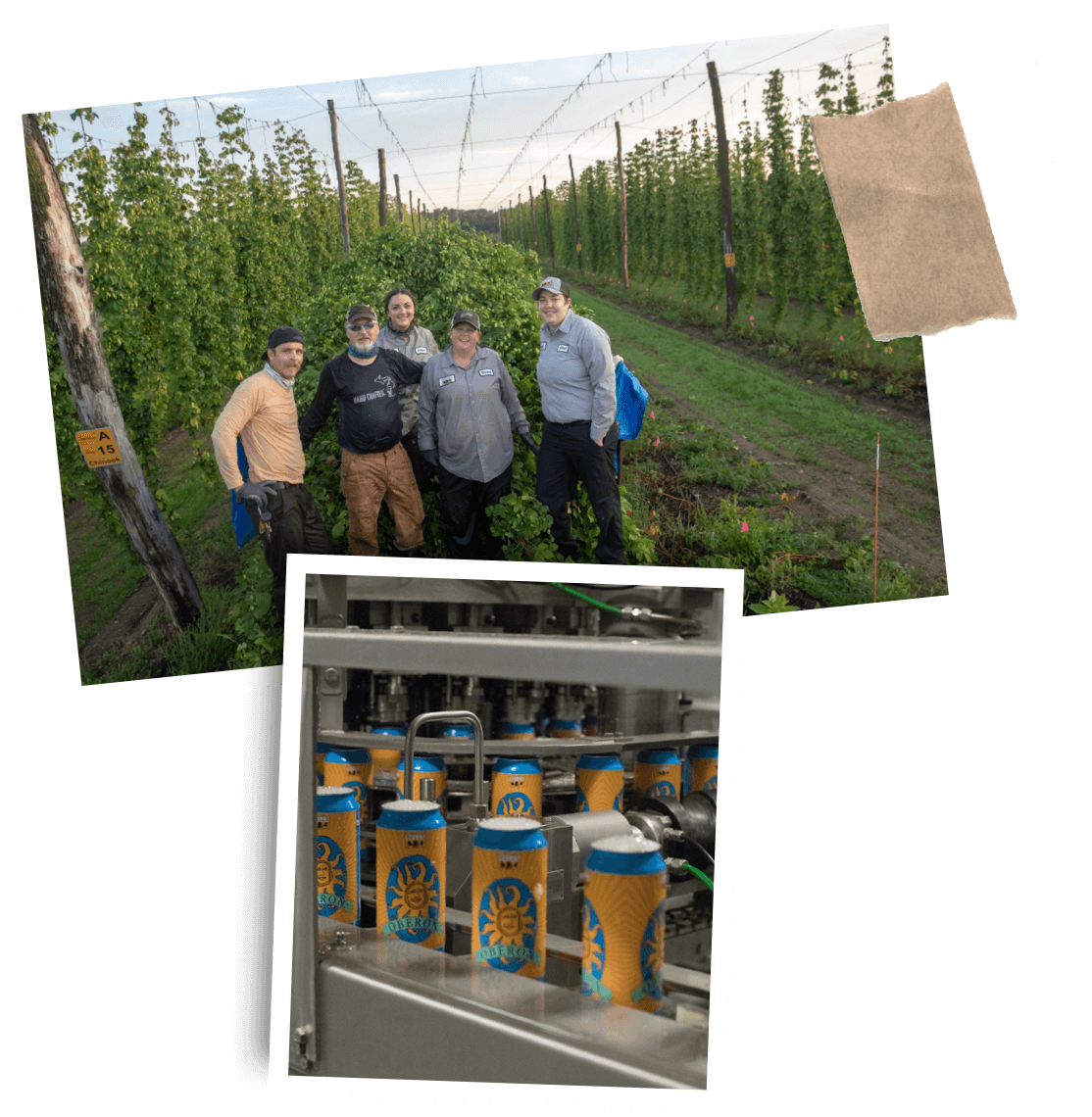 Can Line Installed, Hop Yard Planted

Upper Hand Begins Brewing

Upper Hand Brewery, a division of Bell's and an entirely separate sister brewery offering a completely different line of beers in Michigan's upper peninsula, officially opened for business.

300,000 barrels were shipped in one year.

The first of our 800-barrel fermenters was installed.


Construction in Comstock continued—the Cube (a.k.a. our waste water treatment facility) came online. Plus, our Quality Lab added ICP (inductively coupled plasma) for measuring water quality and PCR (polymerase chain reaction) for the analysis of beer DNA.

Bell's Brewery was first voted one of the Best and Brightest companies to work for in the U.S.!
And since we're so proud of this honor, we're just gonna leave these other Best and Brightest awards right here, too :
West Michigan's Best and Brightest 2015-2021

Best and Brightest Companies to Work for in the Nation 2015-2020

Best and Brightest in Wellness 2016-2020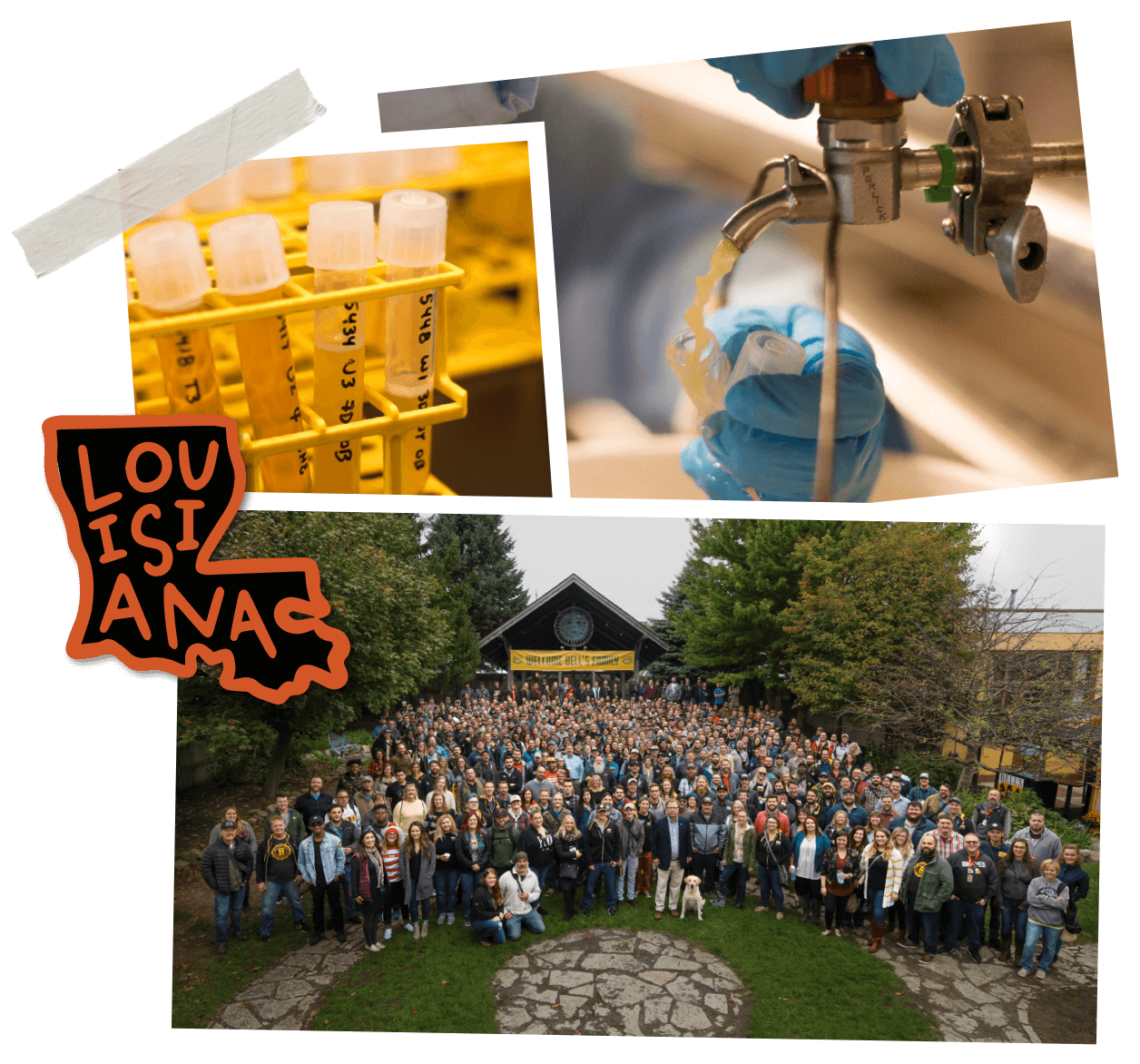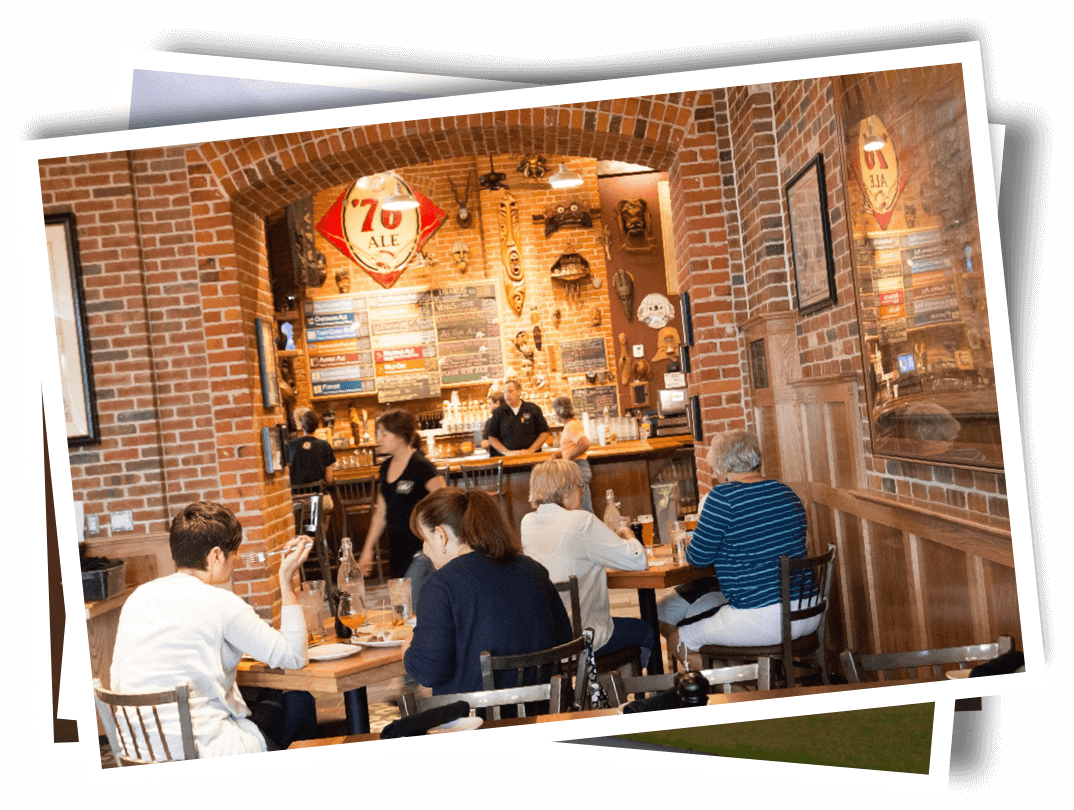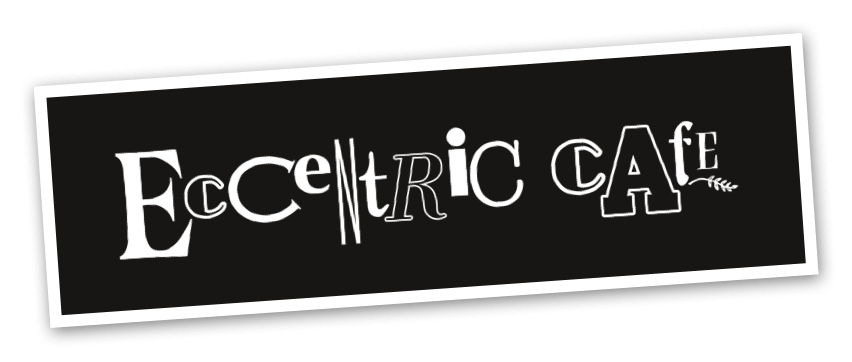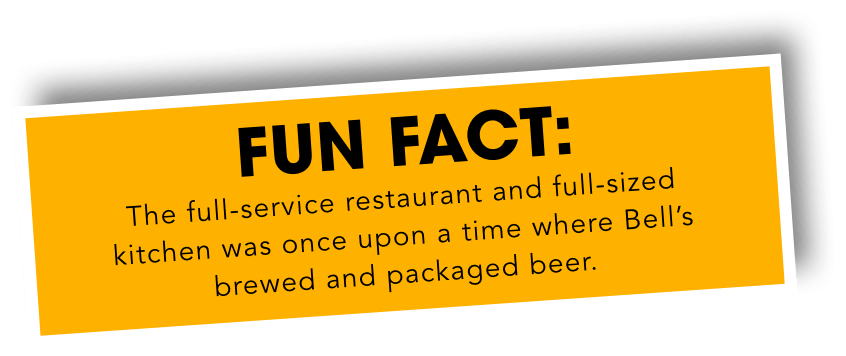 Eccentric Café Kitchen Expansion

The 150-square-foot kitchen that served the Café's guests for more than 20 years got fully redone and reopened with a brand new, expanded bar and additional draught options.
First Brewed: Double Two Hearted

The first Double Two Hearted Ale was released with everything you love about Two Hearted, but doubled (including 2.5X Centennial hops)!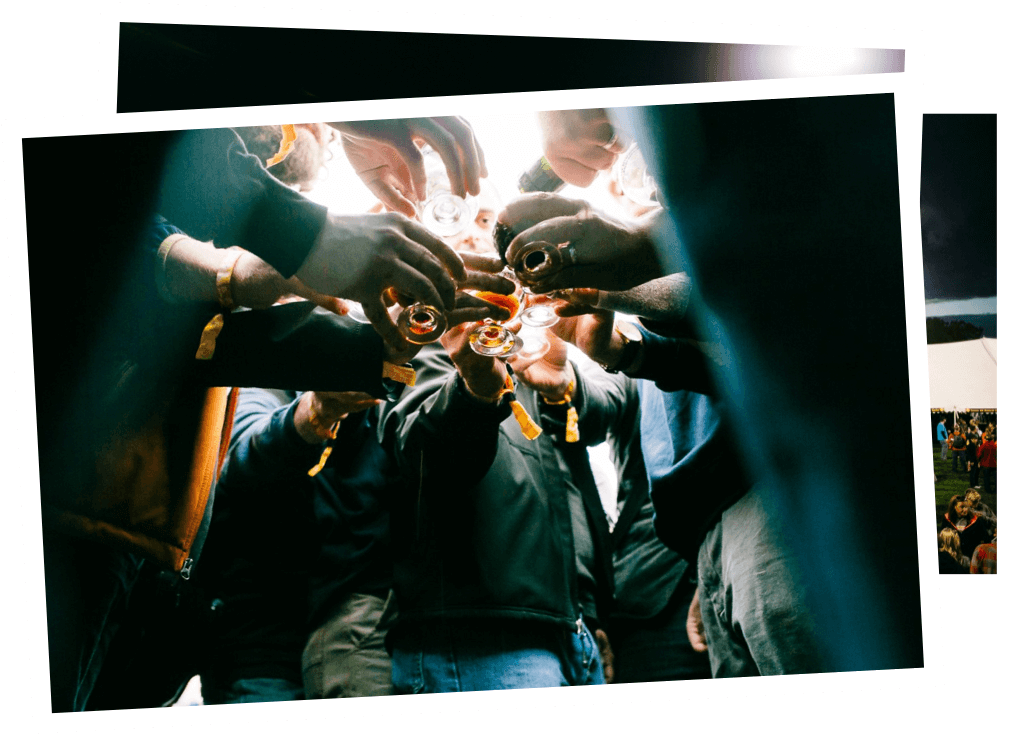 Happy 30th Anniversary Bell's Funvitational

How do you celebrate 30 years of Inspired Brewing? You invite breweries from all over the world to your hometown for a beer festival like no other. More than 4,000 people attended, and more than 200 beers were poured—many had never been tapped before in Michigan!
Our 30th Anniversary Ale, an American Imperial Stout was also released to commemorate the occasion.

Construction is completed on a brand new Bottling Hall, warehouse space, additional fermentation space, employee care areas, and Logistics Center.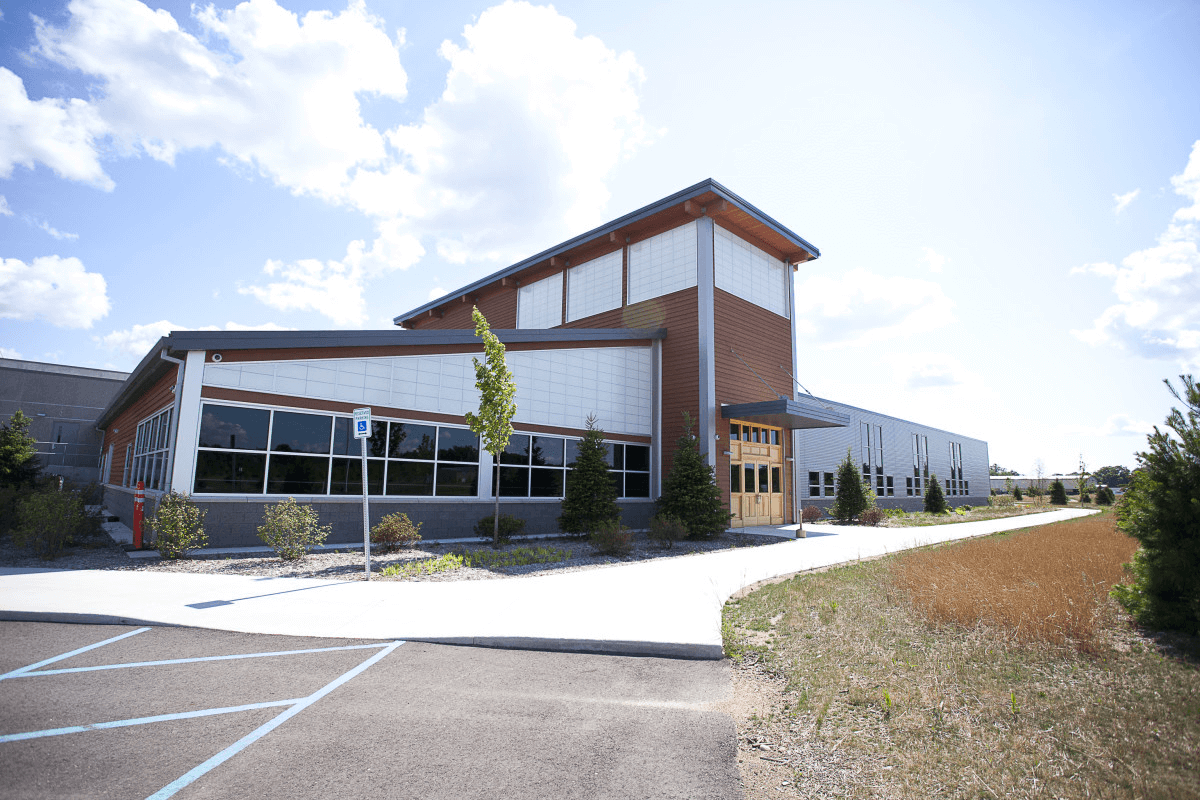 Sixteen 400-barrel dry hop fermenters are added to Cellar A.


After seven years of being ranked #2, American Homebrewers Association members voted Two Hearted Ale as the #1 Beer in America! Bell's was also named the #1 Brewery in America!

Beer First Brewed This Year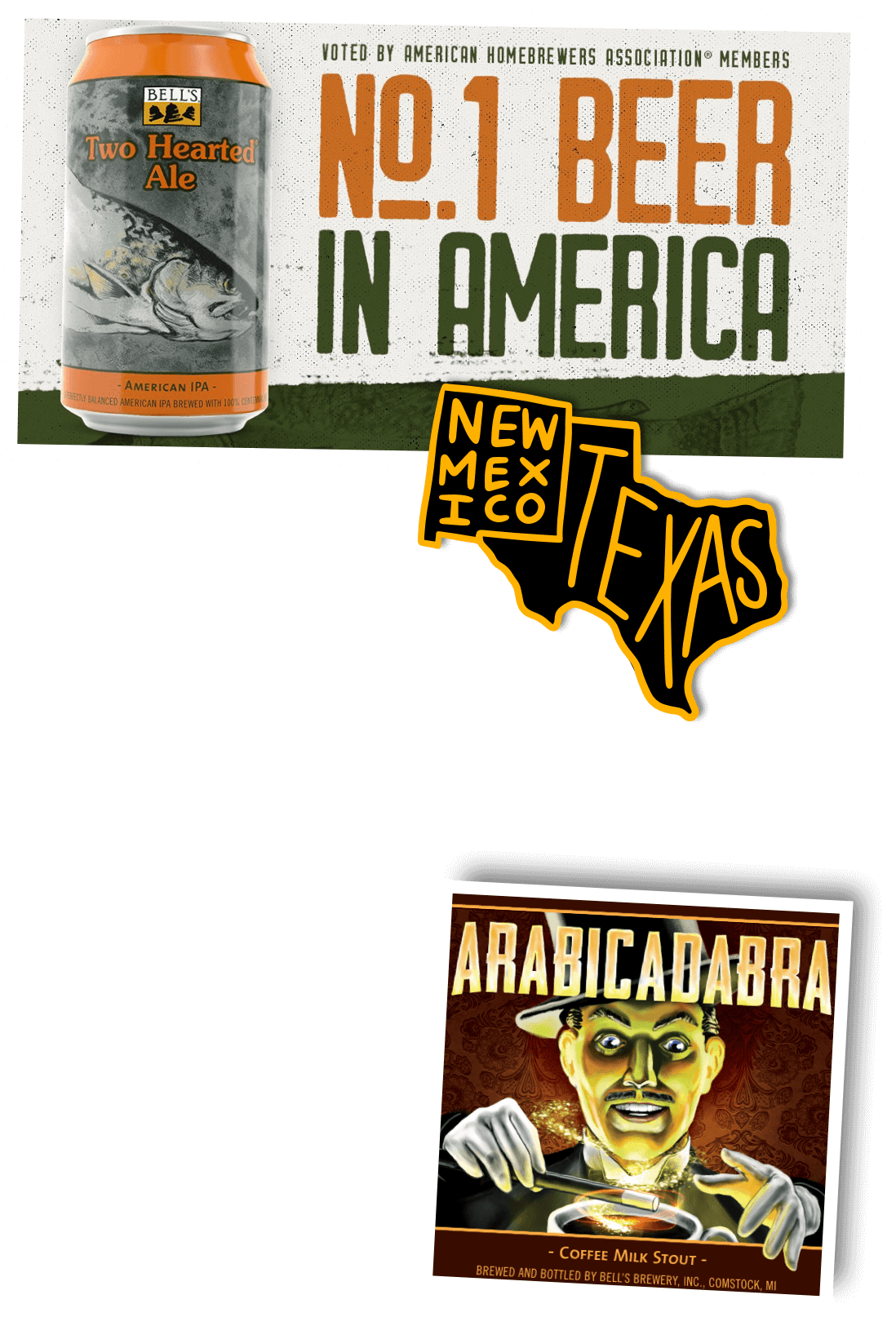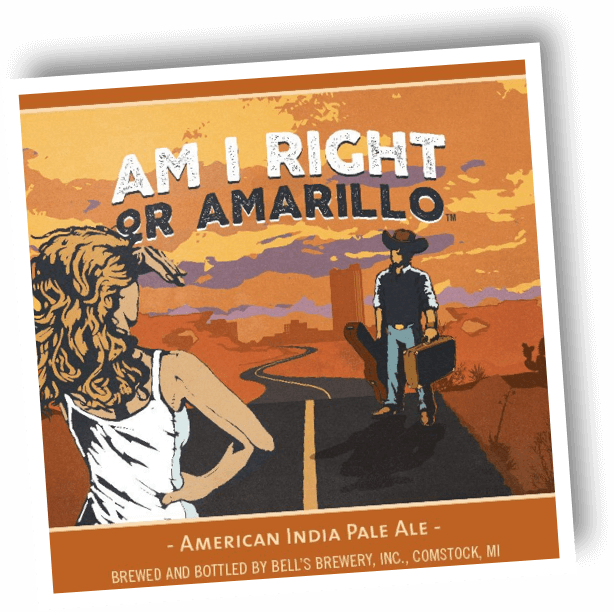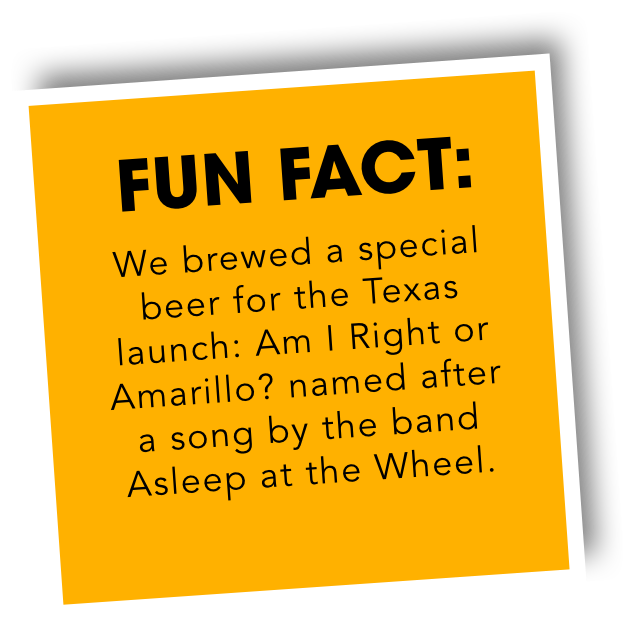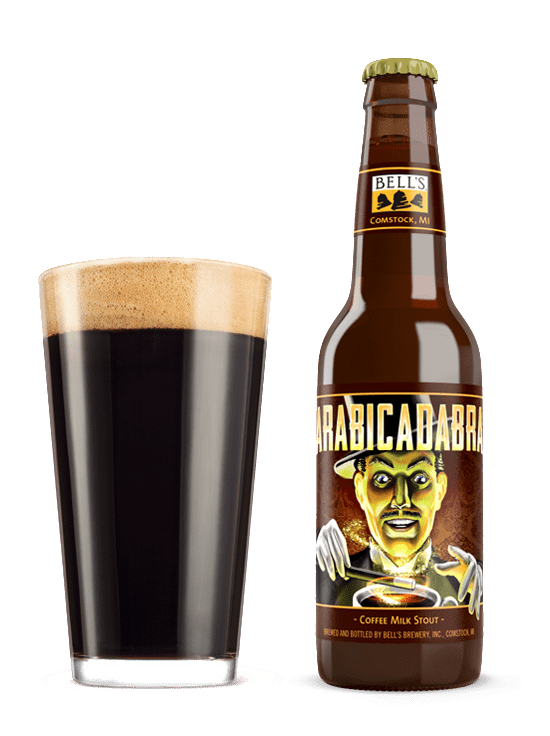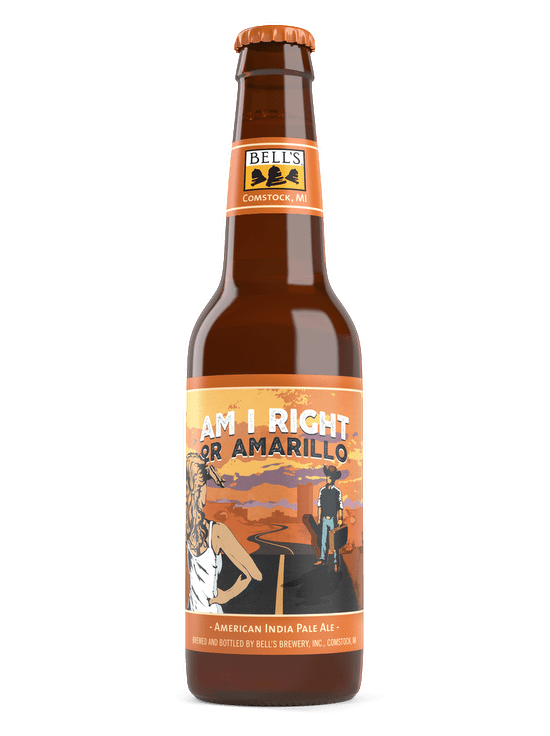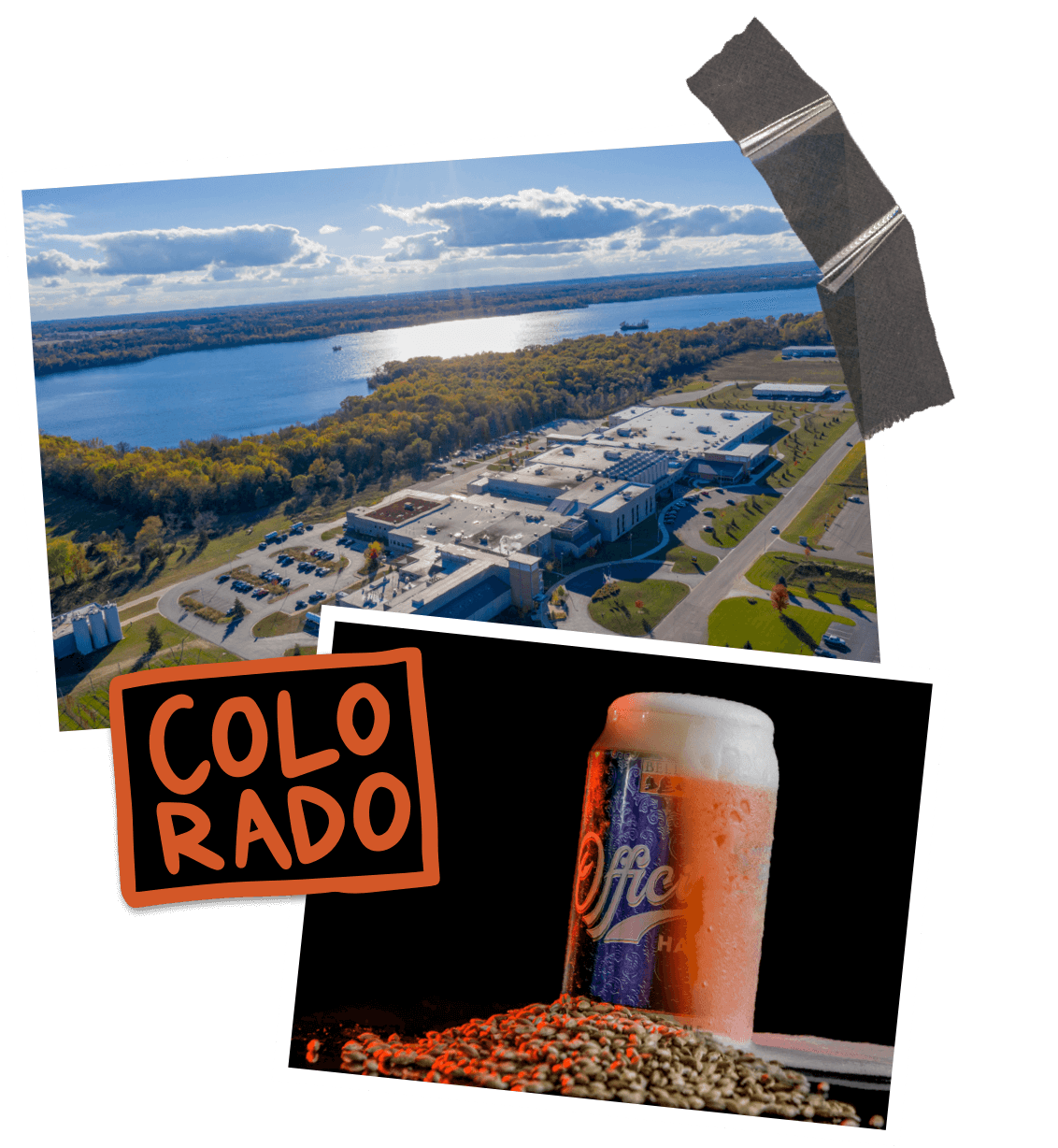 Twelve additional 800-barrel fermenters were installed. Other construction projects were completed, including yeast propagation system upgrades, two pilot brew systems, and a specialty packaging line installation.



We made it Official in 2019 with the release of our Hazy IPA.
First Brewed: Flamingo Fruit Flight

The first Flamingo Fruit Fight, a passionfruit and lime tart ale, was brewed and released. This marked the launch of a new brand family that celebrates fruity flavors like raspberry, pomegranate, and lemon-lime.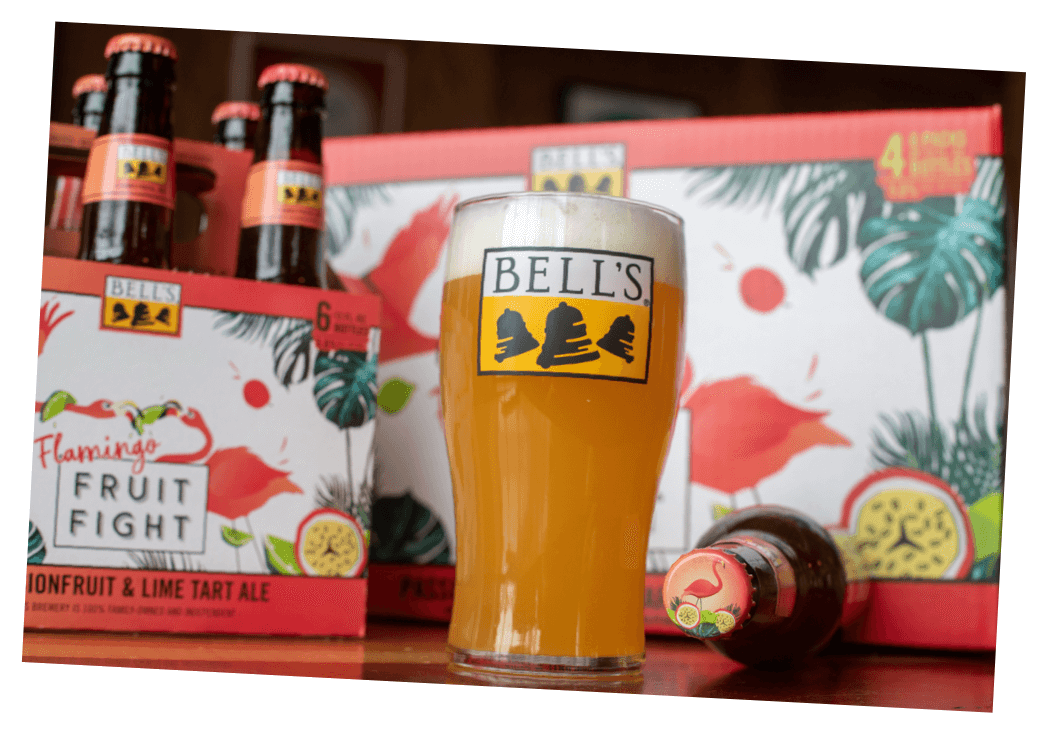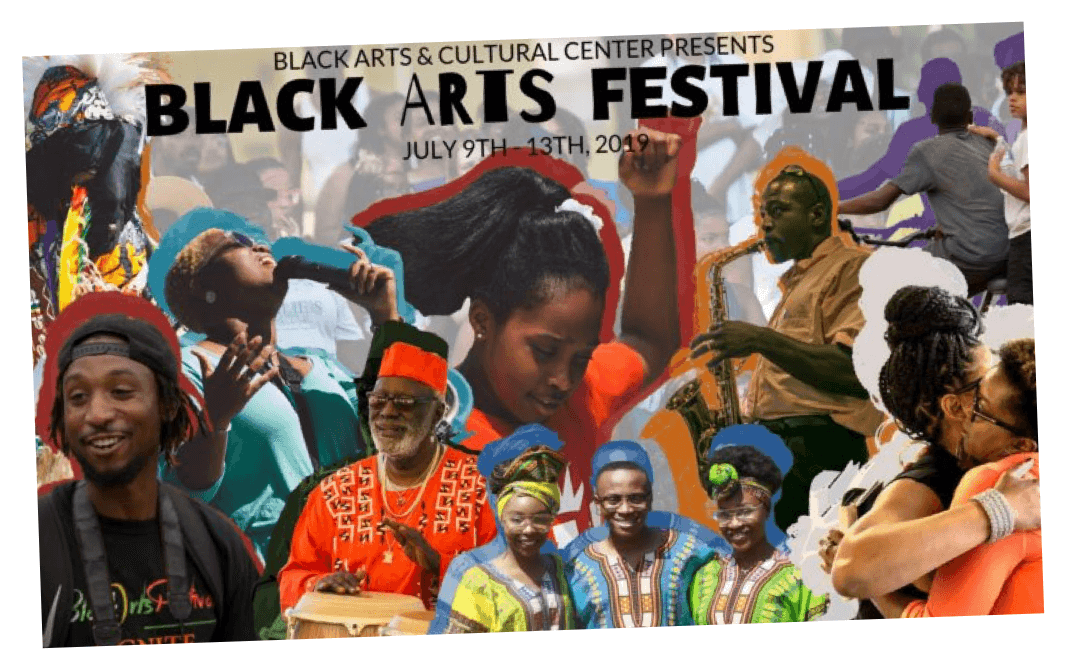 Diversity, Equity, and Inclusion at Bell's

Bell's strengthened its commitment to diversity, equity, and inclusion through several initiatives: Hiring a full-time DEI specialist, forming a DEI committee, evaluating our culture and communication, introducing anonymous reporting, and sponsoring Kalamazoo's Black Arts Festival.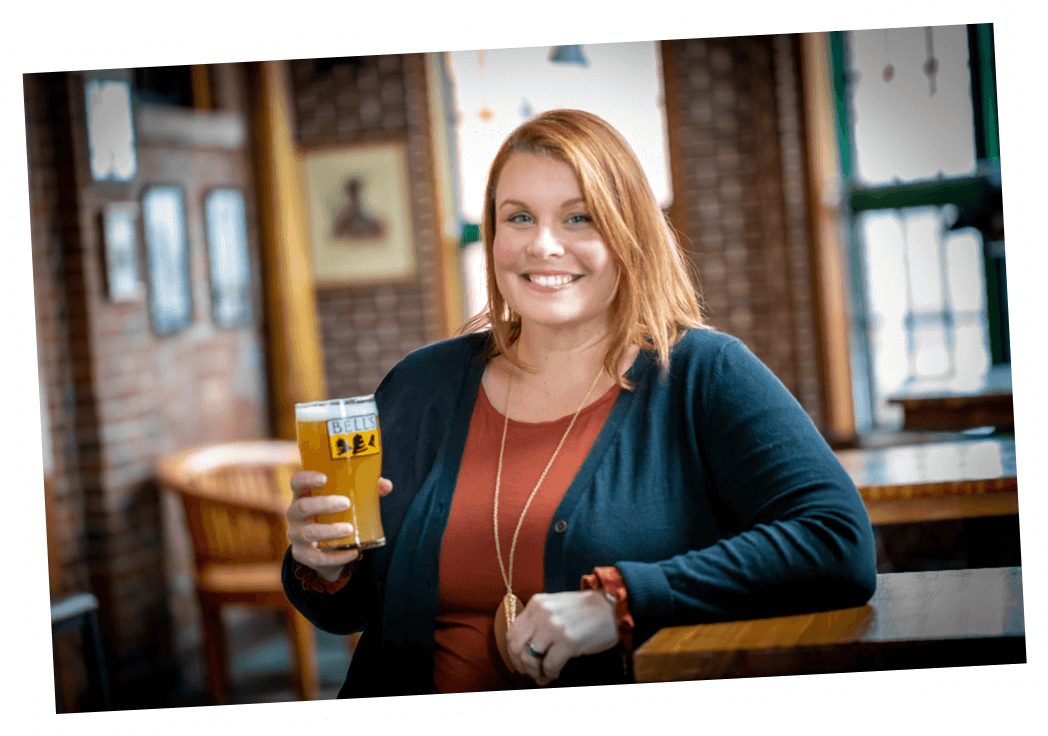 Carrie Yunker Promoted to Executive VP

Carrie K. Yunker was named the Executive Vice President of Bell's Brewery, Inc., overseeing all aspects of company management. She had been a Bell's employee for 20 years, first working as a part-time receptionist.
John Mallett Scholarship Announced

In celebration of Bell's Vice President of Operations John Mallett's 20th anniversary with the company, a scholarship was established in his name to assist individuals wishing to undertake studies with the Master Brewers Association of the Americas.
Hop Quiz — Test Your Bell's Beer Knowledge
Which of our seasonal, citrusy ales is released every March and recognized by many Michigan locals as an unofficial state holiday?
Correct! Released for the season every March, Oberon is one of our most famous spring and summer ales.
Close! While it is brewed with citrus, Two Hearted is a Bell's Brewery staple available all year long!
Not quite! Lager for the Lakes is a smooth American Lager with a clean finish that will bring summer to you all year.